To help you become a better ukulele player, our lessons are set up in three simple ways:
1. Learn to Play With Ukulele Tricks Lesson Courses
Learning to play ukulele is faster and easier when you have someone showing you the way.
Each Ukulele Tricks online video lesson course teaches you how to play the ukulele in a simple to understand, non-intimidating way. You save yourself time, frustration, and money when you learn to play ukulele with us.
Our step-by-step, comprehensive courses give you a complete roadmap towards ukulele success. Select a course to learn more and begin today.

Perfect for beginners. Become proficient in strumming, rhythm and chord changes on the ukulele, improving your skills while learning actual songs.

For players beyond the basics. Take your fingerpicking skills to the next level on the ukulele, learning fingerpicking pieces in four distinct styles.
2. Grab a Ukulele Lesson Book
Mix up your practice with a combination of physical-based and digital-based practice books written by Brett McQueen, founder of Ukulele Tricks (learn more about Brett here).
Ukulele Exercises For Dummies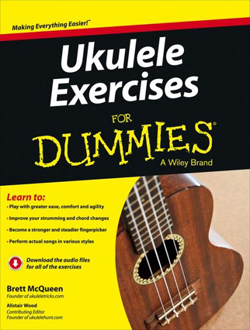 Take your ukulele playing to the next level – fast! – with hundreds of fun exercises, drills and practice tunes. You have a ukulele, you know just enough to be dangerous, and now you're ready to do something with it. You're in luck: Ukulele Exercises For Dummies helps you become a better player. This physical practice-based book focuses on the skills that entry-level players often find challenging and provides tips, tricks and plenty of cool exercises that will have you creating music in no time.
Learn Ukulele Today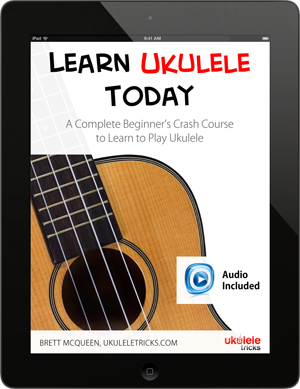 For the aspiring, brand new, beginning ukulele player, Learn Ukulele Today is a complete crash course to learn how to play ukulele, covering everything from how to tune and hold your ukulele to playing actual songs. Everything you need to start playing the ukulele and improve your skills is right at your fingertips. This interactive 44-page book, formatted specifically for the iPad, is jam-packed with the most essential parts to playing the ukulele.
Your First Ukulele Lesson and Then Some (Free)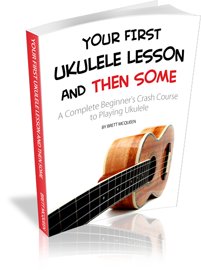 If you're new to playing ukulele, it can be really hard to know where to start. You might be asking yourself: How do I tune my ukulele? What chords do I need to know? How do I strum? What are some easy songs I can learn? If you're just beginning ukulele, this book will be perfect for you. If you've been playing for awhile but find yourself not making any real progress, this book will also be perfect.
3. Free Ukulele Lessons
Here is a collection of Ukulele Tricks' best lessons.
Don't forget to grab a copy of the free 41-page ukulele lesson book too.
Introductory Lessons
Chords & Strumming Lessons
Fingerpicking Lessons
Music Theory Lessons
Scales Lessons
Please start by learning the C major scale first.
Performance & Practice Tips
Christmas Song Lessons