Ukulele Tricks is a website that helps you become a better ukulele player with ease.
Your First Step Learning to Play the Ukulele
In the early days, Ukulele Tricks began with a simple lesson book.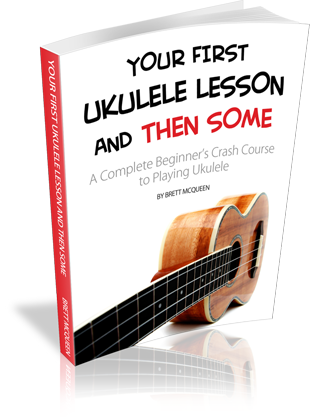 I (Brett McQueen) created a free 41-page digital ukulele lesson book called Your First Ukulele Lesson and Then Some. Since then, over 50,000 people–from kids as young as 6 years old to adults as old as 92 years old–have downloaded the book and learned how to play the ukulele!
Your First Ukulele Lesson and Then Some is a complete crash course beginners guide to playing the ukulele. You learn things like:
How to properly tune, hold, and strum your ukulele
The most essential "must-know" ukulele chords
How to play 3 extremely versatile strumming patterns
How to play "I've Been Working On the Railroad"
The lesson book is completely free. This is because I want to show you just how easy it is to learn ukulele.
Just enter your email address below to instantly get your free copy:
Yes! I want the free ukulele lesson book Your First Ukulele Lesson and Then Some.
Along with the free ukulele lesson book, don't forget to check out other easy-to-follow free ukulele lessons posted here on the site.
Your Easy-to-Follow Roadmap to Ukulele Success
The biggest part of Ukulele Tricks however is the Strumming Tricks and Fingerpicking Tricks video lesson courses.
Learning to play ukulele is faster and easier when you have someone showing you the way.
Each Ukulele Tricks online video lesson course teaches you how to play the ukulele in a simple to understand, non-intimidating way. You save yourself time, frustration, and money when you learn to play ukulele with us.
Our step-by-step, comprehensive ukulele lesson courses give you a complete roadmap towards ukulele success. Select a course to learn more and begin today.

Perfect for beginners. Become proficient in strumming, rhythm and chord changes on the ukulele, improving your skills while learning actual songs.

For players beyond the basics. Take your fingerpicking skills to the next level on the ukulele, learning fingerpicking pieces in four distinct styles.
About Brett McQueen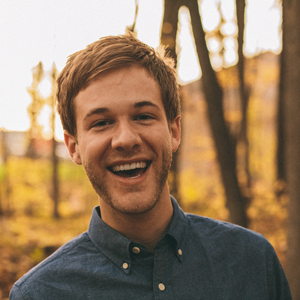 My name is Brett McQueen. I'm a lifelong ukulele player and I believe anyone can learn to play the ukulele.
When I was about seven, my grandpa taught me how to play "I've Been Working On the Railroad" on the ukulele. Ever since then, I've been hooked. For as long as I can remember, holiday gatherings have been spent with the family around the piano, with ukes in hand, playing and singing our favorite folk songs and carols.
These kinds of experiences led me to establish Ukulele Tricks in 2010. So, in that sense, maybe Ukulele Tricks is a bit nostalgic for me, but my hope is that you discover the joy that this instrument called the ukulele has to offer–even if you've never played an instrument before in your life.
I teach over 8,000 students in the Ukulele Tricks online ukulele lesson courses Strumming Tricks and Fingerpicking Tricks. I'm also the author of the internationally-published practice-based book Ukulele Exercises For Dummies.
The coolest part about Ukulele Tricks is that I get to meet a lot of awesome people like yourself. Here are a couple ways we can stay connected:
See you around!