So, you want to learn how to play ukulele, but you're not sure what uke to buy.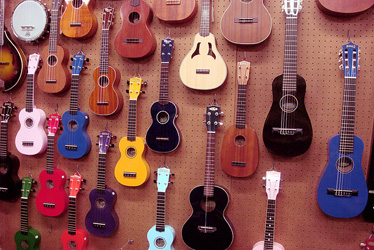 So. Many. Options. Ah! – Photo credit
I'm here to help.
In this short guide, get my top beginner ukulele recommendations and discover some tips for buying your first ukulele.
Before going further, remember, the most important thing:
Get a ukulele!
Don't overthink your decision too much. The most important thing is to buy a ukulele and start playing. The free ukulele lesson book Your First Ukulele Lesson and Then Some has all you need to begin today… no matter what ukulele you have.
With that said, here are my tips and recommendations for buying your first ukulele.
If you want, skip ahead to the top 5 beginner ukulele recommendations.
Borrow a Friend's Ukulele
If you're just starting to learn ukulele, consider finding a friend, family member or coworker who has a ukulele that you can borrow.
Warning: It might be difficult to get your friend to part with their ukulele!
Borrow it for a week or two, get the free 45-page ukulele lesson book Your First Ukulele Lesson and Then Some and see if you like playing the ukulele.
If you find out you hate it (which I highly doubt), then you've not spent a bunch of money, and you can continue about your life.
Narrow Down Your Options With Your Budget
So you already know you love ukulele and you're ready to dive in.
The next thing to do is to set your budget. How much do you want to spend on your ukulele?
There are unlimited ukulele brands at various price points, so narrow down the pool you're picking from and set your budget up front.
The great thing about learning how to play ukulele is that it's not an expensive instrument to learn. You don't have to break the bank. For around $50, you can get a decent and playable ukulele.
At the same time, there are benefits to investing more into a ukulele. Higher quality ukuleles tend to hold tuning better. In addition, those who put a financial investment into playing ukulele tend to be more motivated to learn how to play. You want to get your money's worth.
The sky really is the limit in terms of price. This is why it's important to set a budget for yourself so you don't get lost in all your options.
Most beginners can expect to pay anywhere between $50 to $200 for a good, playable ukulele.
I don't recommend buying anything cheaper.

Expect to pay anywhere from $50 to $200 for a good beginner ukulele –
Photo credit
You might be wondering:
"Why would someone want to pay more than $50 for a ukulele?"
Great question. As you go up in price, you get into ukuleles built with solid wood rather than laminate wood or plastic. Solid woods cost more because the tonal characteristics of the instrument tend to be richer and fuller. Different woods have different tonal characteristics. Some woods are rarer than others which also affects the price. More expensive ukuleles might be handmade or have finer detailing (e.g. pearl inlays). Higher-priced ukuleles tend to have better quality tuners, which means the ukulele will stay in tune for longer periods of time. All of these different things factor into the price of a ukulele.
As a rule of thumb, you get what you pay for.
There are exceptions to this rule. Even though you go up in price, it doesn't always mean the ukulele will be better made than one that's cheaper. This is why it's always important to play a lot of different ukuleles or at least read as many reviews online as you can.
As a beginner or newer player, you don't need to break the bank.
Because of how cheap you can get a good uke, you have no excuse not to get one!
Let's take a look at some good beginner ukes.
5 Best Ukuleles to Buy for Beginners
The following ukulele recommendations are based on my experience playing these ukuleles and/or your recommendations from the hundreds of comments below this post.
If I'm missing any great suggestions, please say something in the comments below!
For just $60, you can play the fun and famous Makala Dolphin ukulele.
Don't let the price of this ukulele fool you. People everywhere online rave about these. They are made out of plastic but they have great tone and playability for the price. Definitely replace the default strings that come with it with nicer higher-quality ukulele strings.
This is a perfect ukulele for beginners on a budget or those who want a good "throw-it-in-your-backpack" ukulele.
The Makala dolphin ukulele comes in a lot of different colors like: red burst, light blue, pink burst, yellow, green, or purple.
For those who don't like the idea of having a plastic ukulele, the Lanikai LU-21 soprano might be a better choice for you.

This is a laminate wood ukulele, but it'll have the "look" of the real thing. Depending on how hard you play, you might have to tune the strings often. I found when I played the Lanikai LU-21 the intonation is not perfect higher up on the fretboard. For a beginner who just wants to strum some chords, this ukulele gets decent reviews and you can't go wrong.
This is easily the best bang-for-the-buck ukulele on this list.
Just recently I played the Donner concert ukulele, and for the price, I was quite impressed with the quality of the sound, how the ukulele held tuning, and the intonation up the ukulele fretboard.
Most budget ukuleles sound out of tune when you play notes high up the fretboard but not this one. Also tuning held nicely. Once the strings stretched and settled, tuning held well with small adjustments every 10 to 15 minutes of playing. In addition, with the ukulele, you get a strap, case, and tuner. It's a really nice setup to get started. You can't go wrong with the Donner concert ukulele. Lastly, if you're on a tight budget, you can also get the Donner ukulele in a smaller soprano size or larger tenor size.
Based on your feedback in the comments, I had to include the Cordoba 15CM concert ukulele.

You all give this ukulele outstanding reviews in the comments at the bottom of this post. This ukulele sports a mahogany top, back, and sides. In addition to a concert size, the Cordoba also comes in a smaller soprano size and a larger tenor size. If you have larger hands, definitely go with the tenor so you have extra space for your fingers between the frets.
If you ever want to "plug in" and amplify the sound of your ukulele, then, the Kala KA-TE tenor ukulele is for you.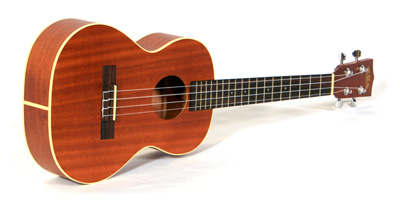 I play a Kala tenor ukulele for some of the video lessons in the Strumming Tricks online ukulele lesson course I teach and love it. It's not the same ukulele as this one, but I can't say enough great things about Kala ukuleles.
This ukulele has an electronic pickup which means if you ever want to perform your ukulele live and plug in to amplify the sound then this ukulele is for you.
For those with bigger fingers or larger hands, you might find soprano and concert ukuleles hard to play. If this sounds like you, look at a tenor-sized ukulele. I have a tenor ukulele and it feels much more comfortable to play and hold with my bigger hands. This Kala tenor ukulele is a great choice. And if the electronic pickup isn't important to you, Kala also makes this same ukulele in a soprano or concert size.
Disclosure: As an Amazon Associate I earn from qualifying purchases. Proceeds are used to support this site.
What Ukuleles Do You Recommend?
There are many ukuleles out there that would suit a beginning player. I've only touched the tip of the iceberg, and I know I've missed some other really great entry-level ukuleles out there. So, let's hear your recommendations! Post a comment below to share your suggestions.
Last updated on June 14, 2023.