If there's one song every ukulele player needs to know, it's Jason Mraz's I'm Yours on ukulele.
With laid back vibes that make you feel like you're strumming on the beach somewhere in Hawaii, this song is fun to play.
Learn how to play Jason Mraz's with the ukulele chord diagrams and chart below and get some tips on the strumming you can use to play this song.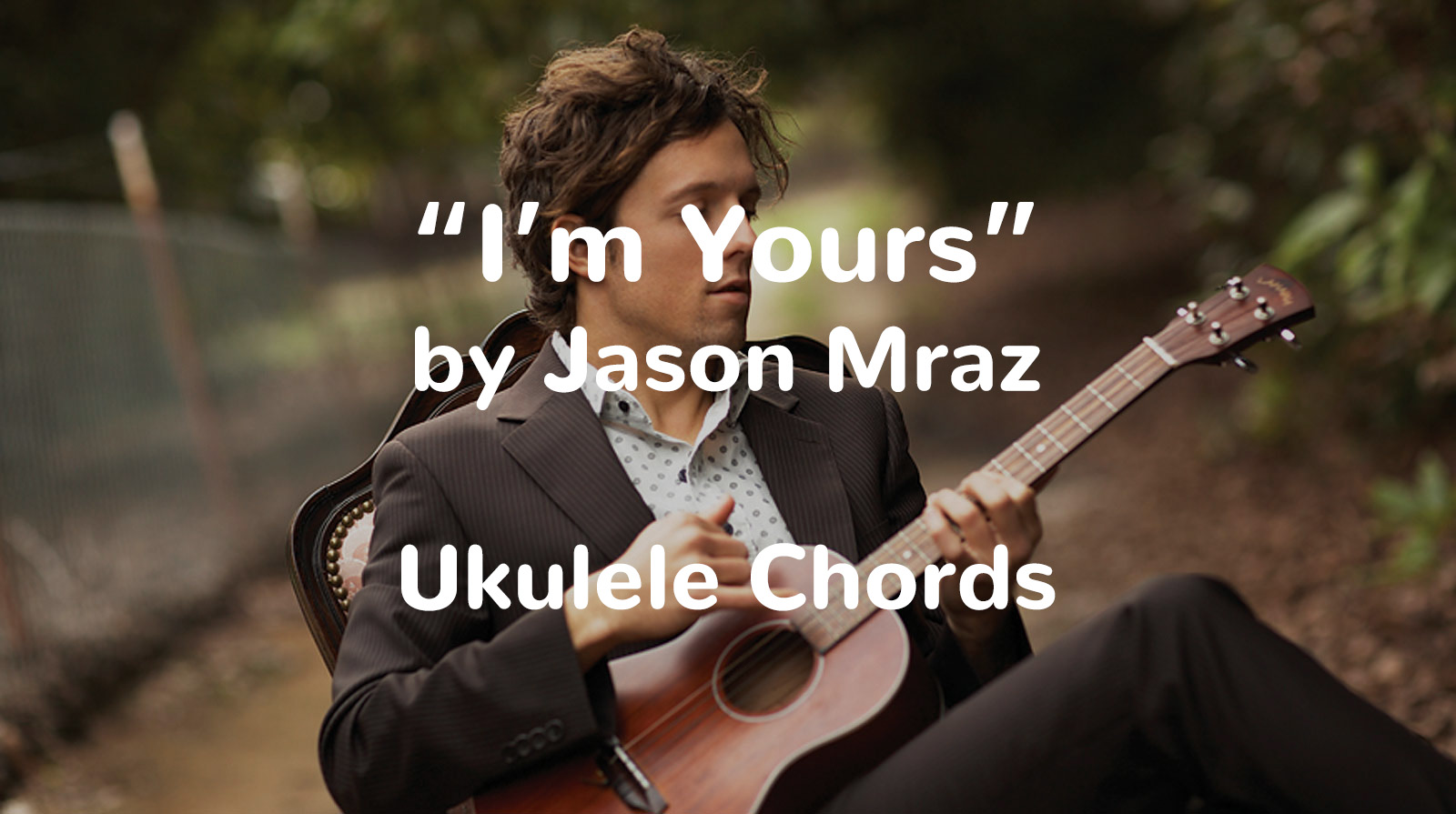 Chords Used in "I'm Yours"
This song is originally recorded in the key of B major but sometimes for live performances Mraz will lower the key a half step or two to make it easier to sing.
I find it's much easier to play and sing when it's lowered a half step to the key of Bb major.
To help you find the right key for your voice, I'm going to first include the chart for the original key, and then, I'll include another chord chart for the key of Bb and A.
Use the Ukulele Tricks chord library to look up these chords and get the chord diagrams.
"I'm Yours" by Jason Mraz Video Performance
Listen to I'm Yours to hear how this song sounds before you play it on your ukulele.
As you'll hear in the video, Jason Mraz uses a muting technique for his strumming on the guitar. We can replicate this on the ukulele by playing a down-up eighth note strum while accenting beats 2 and 4 of the measure.
If strumming is a mystery to you, join me in the free four-lesson Learn to Play Ukulele Today video course.
"I'm Yours" by Jason Mraz Ukulele Chords
Intro:
Well, you done done me
and you bet I felt it
I tried to be chill
but your so hot that I melted
I fell right through the cracks,
and I'm trying to get back
Before the cool done run out
I'll be givin' it my best test
and nothin's gonna stop me
but divine intervention
I reckon it's again my turn
to win some or learn some
I won't hesitate no more, no more
It cannot wait I'm yours
Turn:
Well open up your mind and see like me
Open up your plans and damn you're free
Look into your heart and you'll find
love, love, love
Listen to the music of the moment,
people dance and sing
We're just one big family
It's your God forsaken right to be
loved, loved, loved, loved, loved
So I won't hesitate no more, no more
It cannot wait I'm sure
There's no need to complicate
our time is short
This is our fate, I'm yours
Turn:
(2x)
I've been spendin' way too long
checkin' my tongue in the mirror
and bendin' over backwards
just to try to see it clearer
But my breath fogged up the glass
and so I drew a new face and laughed
I guess what I'm a sayin' is
there ain't no better reason
To rid yourself of vanity and
just go with the seasons
It's what we aim to do
Our name is our virtue
So I won't hesitate no more, no more
It cannot wait I'm sure
There's no need to complicate
our time is short
This is our fate, I'm yours
Well open up your mind and see like me
Open up your plans and damn you're free
Look into your heart and you'll find
love, love, love, love
"I'm Yours" by Jason Mraz Ukulele Chords (Alternate Version)
Intro:
[
]
Well, you done done me
and you bet I felt it
I tried to be chill
but your so hot that I melted
I fell right through the cracks,
and I'm trying to get back
Before the cool done run out
I'll be givin' it my best test
and nothin's gonna stop me
but divine intervention
I reckon it's again my turn
to win some or learn some
I won't hesitate no more, no more
It cannot wait I'm yours
Turn:
[
]
Well open up your mind and see like me
Open up your plans and damn you're free
Look into your heart and you'll find
love, love, love
Listen to the music of the moment,
people dance and sing
We're just one big family
It's your God forsaken right to be
loved, loved, loved, loved, loved
So I won't hesitate no more, no more
It cannot wait I'm sure
There's no need to complicate
our time is short
This is our fate, I'm yours
Turn:
(2x)
[
(2x)]
I've been spendin' way too long
checkin' my tongue in the mirror
and bendin' over backwards
just to try to see it clearer
But my breath fogged up the glass
and so I drew a new face and laughed
I guess what I'm a sayin' is
there ain't no better reason
To rid yourself of vanity and
just go with the seasons
It's what we aim to do
Our name is our virtue
So I won't hesitate no more, no more
It cannot wait I'm sure
There's no need to complicate
our time is short
This is our fate, I'm yours
Well open up your mind and see like me
Open up your plans and damn you're free
Look into your heart and you'll find
love, love, love, love