When you think of the ukulele, it's hard not to think of Israel Kamakawiwo'ole's beautiful rendition and medley of Somewhere Over the Rainbow / What a Wonderful World.
This song has actually been around over 20 years, since 1993, a few years before his death in 1997. Thanks to movies like Meet Joe Black, 50 First Dates, Finding Forrester, and popular TV shows like Scrubs and So You Think You Can Dance have helped draw attention to this song.
For ukulele players, it's a "must-know" song.
Scroll down to get the ukulele chords and a video lesson teaching you how to play Somewhere Over The Rainbow / What a Wonderful World.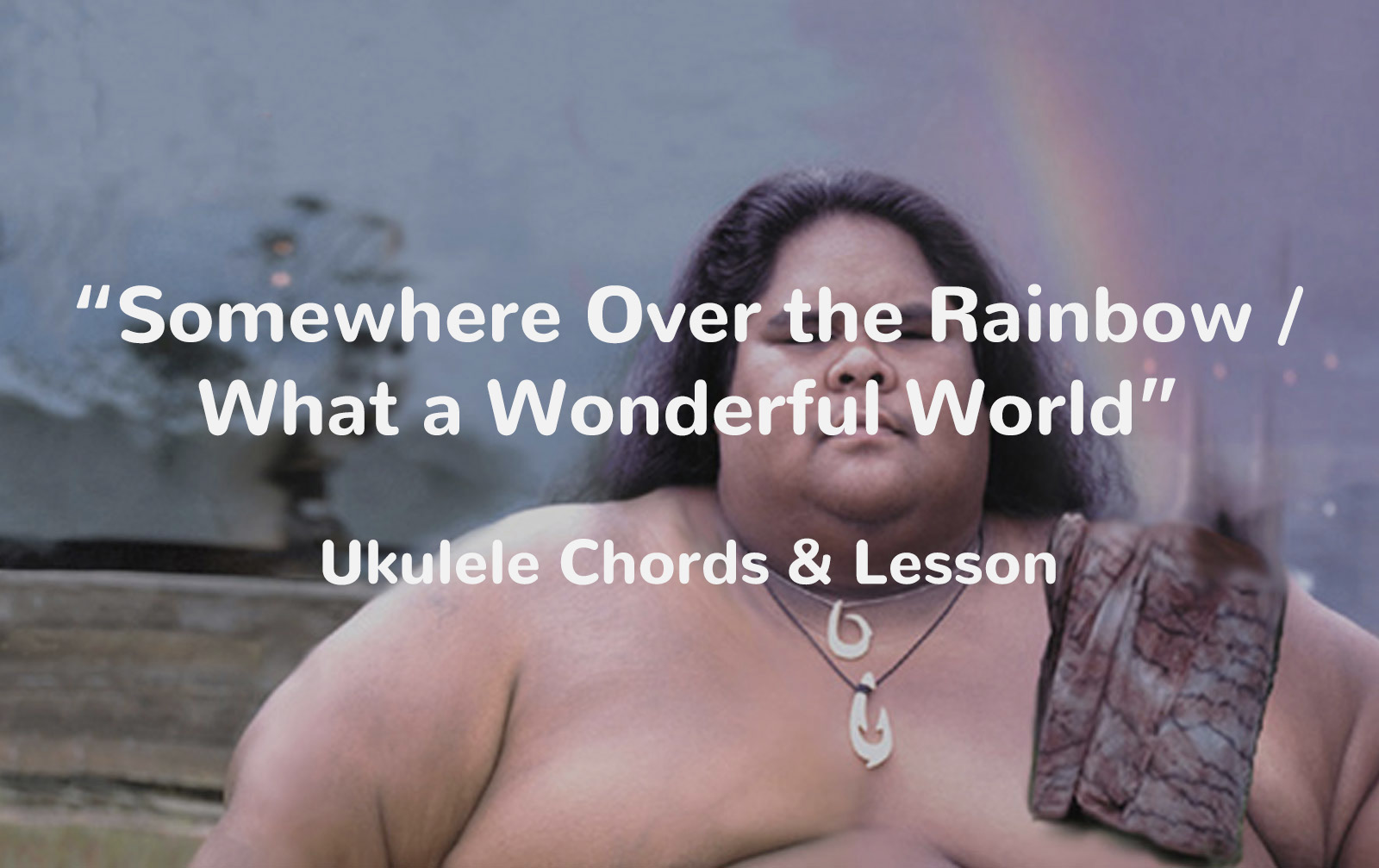 While the chords of this song are beginner-friendly, the rhythm of this song can be challenging for new ukulele players.
If you feel lost on how to strum this song, I recommend starting with the free four-lesson video course Learn to Play Ukulele Today where I teach you how to play three extremely versatile strumming patterns that provide a perfect foundation to play this song, especially if you're new to playing ukulele.
Yes! I want the free Learn To Play Ukulele Today video lesson course to build the foundations of strumming.
Please note: I take your privacy very seriously. I promise never to spam you or distribute your email to a third party.
Playing songs like this one is always easier with the right foundations.
How to Play Somewhere Over the Rainbow / What a Wonderful World
In this video, I go through each section of the song and show you how to play it. I also take a look at and explain the strumming pattern and rhythm for this song.
"Somewhere Over the Rainbow/What a Wonderful World" Ukulele Chords
Here are the ukulele chords to Somewhere Over the Rainbow by Israel Kamakawiwo'ole.
To learn the fingering for any of these chords, refer to our ukulele chord library. To get chords to other songs visit our ukulele songs page.
Intro:
Fadd9
Oooo, oooo, oooo…
Oooo, oooo, oooo…
Somewhere over the rainbow
– Way up high
And the dreams that you dream of
Once in a lullaby…
–
Oh, somewhere over the rainbow
– Blue birds fly
And the dreams that you dream of
Dreams really do come true…
–
Someday I'll wish upon a star
Wake up where the clouds are far behind me
–
Where trouble melts like lemon drops
High above the chimney tops
–
That's where you'll find me
–
Oh, somewhere over the rainbow
– Blue birds fly
And the dream that you dare to
Why oh why can't I…
–
Well I see trees of green
–
And red roses too
I watch them bloom for me and you
–
And I think to myself
– What a wonderful world
–
Well I see skies of blue
–
And I see clouds of white
–
And the brightness of day
–
I like the dark
–
And I think to myself
– What a wonderful world
–
The colors of the rainbow
–
So pretty in the sky
–
Are also on the faces of people passing by
–
See friends shakin hands saying
"How do you do?"
– They're really sayin,'I, I love you."
–
I hear babies cryin'
–
And watch them grow
They'll learn much more than we'll ever know
–
And I think to myself
– What a wonderful world
–
Someday I'll wish upon a star
Wake up where the clouds are far behind me
–
Where trouble melts like lemon drops
High above the chimney tops
–
That's where you'll find me
–
Oh, somewhere over the rainbow
– Way up high
And the dreams that you dare to
Why oh why can't I
Oooo, oooo, oooo…
Oooo, oooo, oooo…