There's nothing worse than an out-of-tune ukulele.
Even if it's just you locked away practicing in a room by yourself where nobody can hear you, listening to out-of-tune chords and notes can you make you feel uninspired and wonder why you sound so, well, bad.
You can be a competent and proficient ukulele player, but if your ukulele is out of tune, no one would know it – even yourself!
I've always said one of the fastest ways to sound better as a ukulele player is to tune your ukulele. It's a common beginner mistake to think that since you had your ukulele tuned once that you won't have to tune it again later. If you're new to playing ukulele, then, your number one goal is to figure out how to tune your ukulele! Always tune every time you sit down and play.
But why does your ukulele keep going out of tune after you spend all that time tuning it up?
How can it be that your ukulele is technically "in tune" according to the tuner but sounds out-of-tune when you play?
And what can you do if you have a ukulele that can't hold pitch?
Here are the six reasons your ukulele is going out of tune and what you can do about it.
Reason #1: Ukulele Strings
If you have a ukulele that won't hold pitch, then first, consider the strings on your uke.
Older strings, or strings that have had time to stretch, tend to hold tuning better than brand new strings.
While putting brand new strings on your ukulele is a sure-fire way to improve the overall resonance and sound of your ukulele, it also means you're going to have to tune a lot for the first few hours of playing. This is normal. New strings need time to stretch and "settle" into place.
That said, watch out for old strings too. While older strings might not stretch as much, the quality of the sound will go down, and if you inherited an old ukulele from your grandparent's attic, then, definitely change the strings!
Secondly, not all strings respond the same way to your ukulele. For example, I had read that the famous ukulele player Jake Shimabukuro used a special set of D'Addario strings on his ukuleles (specifically the D'Addario J71 Pro-Arte strings). I tried these same strings on my ukulele but ran into all sorts of issues with them holding pitch, even after the break-in stretching period. It's not that these strings are necessarily bad – it's just they didn't work ideally with my instrument.
Different strings respond differently to different sizes of ukuleles, tuners, bridges, and nuts. All of these things affect the tuning (more on that later).
That means you need to try out different strings over time. For me, I've tried multiple string manufacturers like Worth, D'Addario, and Aquila, but I just keep going back to the tried and true Aquila ukulele strings for soprano, concert, or tenor ukuleles.
Oh, and lastly, make sure you have the right string set for the size of your ukulele (figure out your ukulele size here). For example, don't put a tenor set of strings on your soprano ukulele. You might have issues with tuning or risk damaging your ukulele.
Reason #2: Changes in Temperature or Humidity
Since ukuleles are made out of natural materials like wood, this means changes in temperature and humidity can affect your instrument's tuning.
As a rule of thumb, if you have a ukulele made out of solid wood (i.e. not laminate or plastic), you should protect your investment by always storing the ukulele in a case with a humidifier when you're not playing. If the instrument's wood gets too dry, it can crack or break.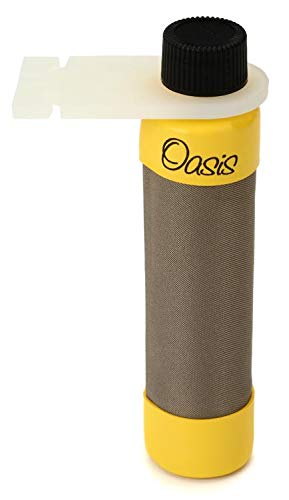 Place a ukulele humidifier, like this Oasis Ukulele+ Humidifier, in your case to prevent your uke's wood from drying out
But simply humidifying your ukulele doesn't necessarily prevent it from going out of tune. A slight change in temperature can also affect the tuning. Again, you can mitigate this by storing the instrument in the case making it faster to tune up next time you play. Even if you store your uke in a case, you should always tune your ukulele when you sit down to play.
Pro Tip: I like to store my expensive instruments in their cases, but I always keep a cheaper "beater" ukulele out in my office on a stand with a tuner attached to the headstock for those moments when inspiration strikes!
Reason #3: Poor Quality Ukulele and/or Tuners
So you get your first ukulele, and at the time of purchase you decided to go with the "budget-friendly" option, but after a month of playing, you begin to kick yourself for not saving a little extra to get that slightly more expensive ukulele in the store.
In general, ukuleles under one hundred dollars have a reputation for not holding tuning as well, although there are some good ones. This is mainly due to cheaper parts and poorer manufacturing.
I've played some fifty-dollar ukes where I could visibly see the strings slipping out of tune through the tuning pegs as I played. You'll be in a whole different key by the time you finish playing one song! Yikes.
Slotted tuning pegs have a bit of a reputation for being harder and more finicky to tune, but they give the ukulele a more traditional look. This style of pegs stick out to the back and are not visible from the front-facing side of the ukulele. You'll see slotted tuning pegs especially in vintage instruments. My concert handmade M.J. Franks ukulele has slotted tuning pegs.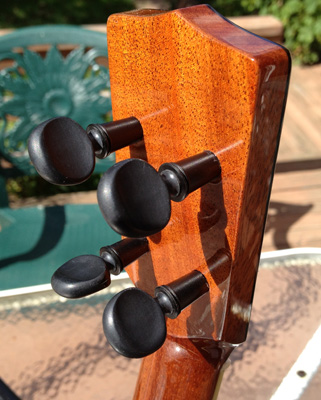 An example of slotted ukulele tuners on my M.J. Franks concert ukulele
Some players find that the "guitar-style" tuners that stick out from the headstock to the side tend to hold tuning better and are easier to tune because of their more precise gear ratio, like on this Kala KA-15 tenor ukulele.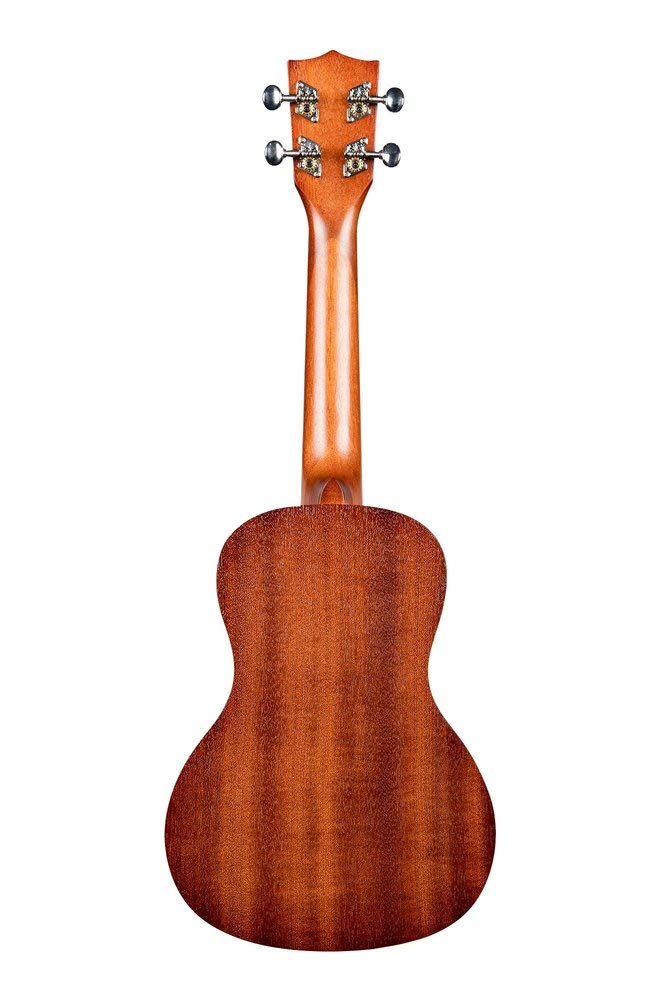 An example of "guitar-style" ukulele tuners – notice how they stick out to the side
If you don't want to buy a new ukulele but want to upgrade its ability to hold tune, one idea is to upgrade your cheap ukulele's tuners.
Waverly tuners and Grover tuners are two brands found on many high-quality instruments. A set of Grover 9NB guitar-style tuners can be had for less than twenty dollars. If you're a handy person, you can install these yourself – just make sure the new tuners are compatible with your existing ukulele (see Aaron Keim's article for some tips and tricks).
For best results, I recommended having a professional luthier, or at the very least, a professional from your local music shop, install them for you.
Upgrading the tuners is one fairly inexpensive way to improve your tuning (depending on if you install them yourself).
Reason #4: Improperly Wound Strings
It never hurts to check and see if your strings are properly wound around the tuning pegs.
Improperly wound strings have a harder time holding pitch.
Stringing up a ukulele, especially if you haven't done it before, can be overwhelming but the most important thing to pay attention to is how the strings are wound around the tuning pegs.
The rule of thumb is to make sure strings are wound from the inside to the outside of the headstock.
Check out the following picture of a Joyner tenor ukulele to see what I mean.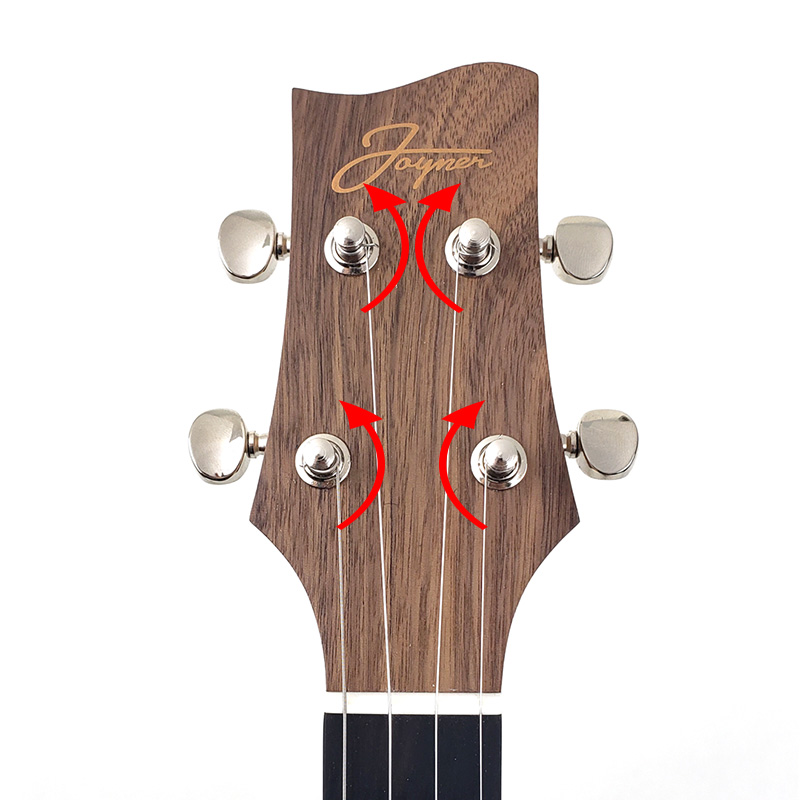 Note how the strings are wound from the inside of the headstock to the outside
As you can see, often times the top two strings will be wound counterclockwise and the bottom two strings will be wound clockwise.
An exception to this rule would be a ukulele like the Fender Nohea ukulele where the tuners are arranged on one side of the headstock. In this case, the rule still applies: the strings are wound from the inside to the outside of the headstock, or in this case, counterclockwise.
Update: As "S" helpfully pointed out in the comments, some manufacturers, like Martin's S1 Soprano ukulele mix the counterclockwise/clockwise string-winding rule above. When in doubt, always double check with the manufacturer of your ukulele on how your strings should be wound!
Reason #5: Do You Have an Intonation Problem?
Into-what problem?!
The word intonation is a funny word that refers to an experience where your ukulele is technically "in tune" according to the chromatic tuner, but when you fret notes on the fretboard or strum a chord, something sounds "off" or out-of-tune.
How is it that your ukulele strings are in tune with the tuner but out of tune when you play chords?
This is known as an intonation problem.
Unfortunately, intonation issues can be the hardest to fix and often require an experienced luthier's help. To fix the issue, the nut and/or bridge of the ukulele may need to be filed down or replaced altogether. On some instruments, intonation issues appear only at certain spots on the fretboard. If this is the case, then, certain frets may need to be filed or adjusted. And even more so, some ukuleles may have a metal truss rod that runs through the neck of the ukulele that may need to be adjusted.
An experienced luthier will know how to adjust all these different elements to fix the intonation of the ukulele.
When the intonation is fixed, the open strings will register as "in tune" on the tuner and will sound in tune when you play chords and notes up and down the fretboard at any spot.
Side note: The mark of a high-end, quality ukulele is one that has perfect intonation up and down the fretboard, meaning any note you play on the fretboard will be "perfectly" in-tune.
Reason #6: Just Playing Your Ukulele
The final reason your ukulele is going out of tune is because you're playing it!
If you're a heavy strummer, chances are you'll be tuning more than a light, easy-going strummer.
If you like to solo and perform a lot of string bends (like blues ukulele soloing), then, it's not uncommon for your strings to go out of tune faster.
That said, don't stress about how your style of playing impacts your tuning. Just play! Tuning is just a part of playing a stringed instrument.
In fact, tuning is so normal, that if you've ever been to a large concert, you might see dedicated technicians on the side stages whose only job is to tune up the next guitar that will be used for the performer's next song. Imagine if you're job was to tune ukuleles all day! That's how important and normal tuning is to the best musicians – they tune before every song.
If it's important to them, then it should be important to you, so with that said, play hard and tune often!