Making the decision to learn a musical instrument like the ukulele is exciting, however as a beginner, you might be wondering:
"How often should I practice?"
How you answer this question lays the foundation for your ability to make the music you love!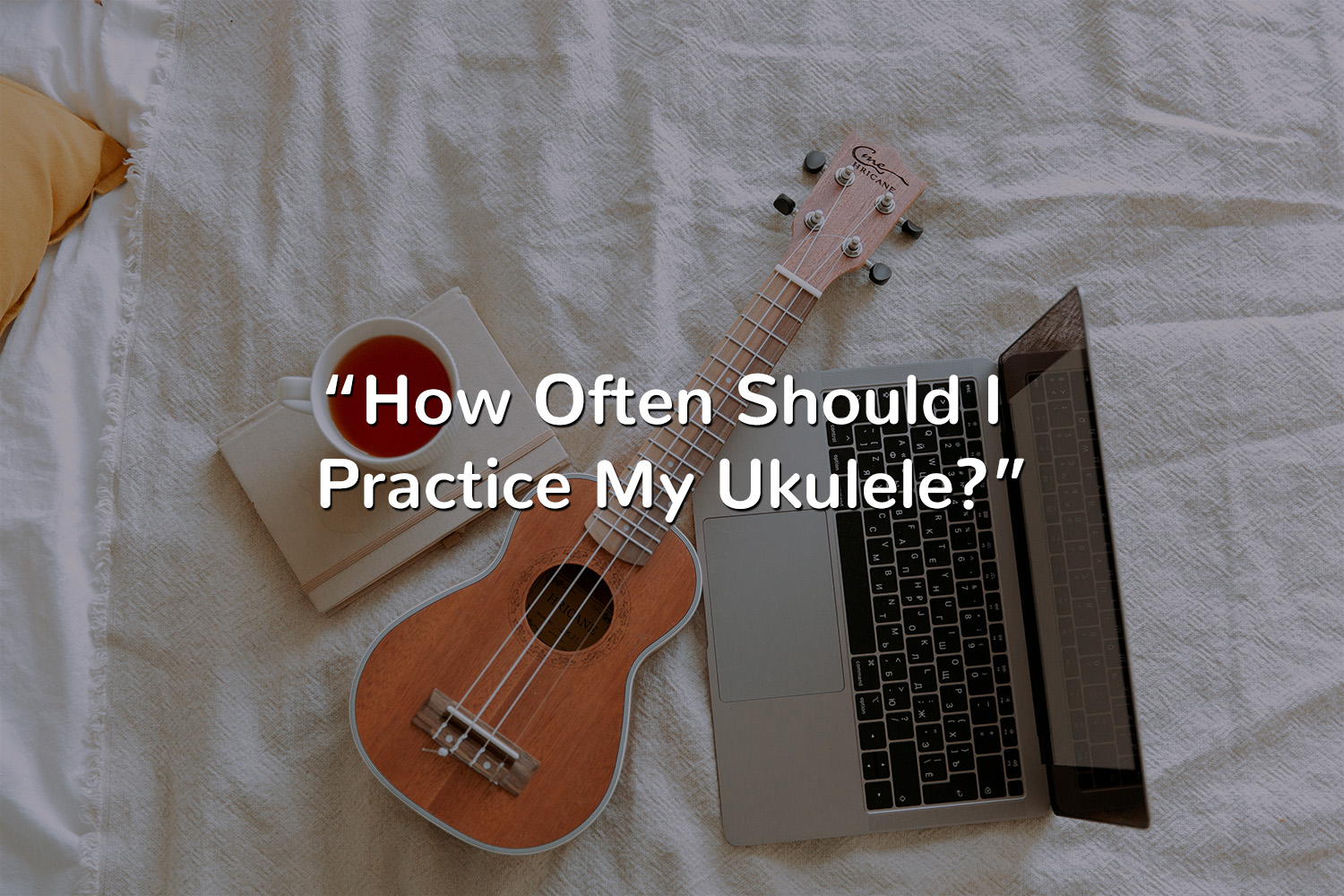 Let's look at the optimal practice frequency for ukulele players at different skill levels – beginner, intermediate, and advanced.
How Often Beginner Ukulele Players Should Practice
When you first start playing, consistency is the most important thing.
A beginner ukulele player should practice daily for at least 15 minutes.
Avoid long multi-hour "Weekend Warrior" marathon sessions that will tire your hands and fingers out, and instead, prioritize short regular sessions. Challenges like sore fingertips are not uncommon for beginners so you'll want to take it easy at first and find a pace that works for you!
In the early stages, your primary goal should be building a solid foundation of the most fundamental techniques and establishing your ukulele habit. By doing so, you'll develop muscle memory and gradually increase your playing stamina.
As a beginner, you'll want to focus on:
This stage is all about embracing the joy of learning. Consistency, coupled with curiosity and perseverance, will set you on the right path… for a lifetime!
For Intermediate Ukulele Players: Quality Over Quantity
The quality of your practice sessions becomes increasingly important as you progress beyond the beginner stage.
At the intermediate level, aim for 30-60 minutes of focused ukulele practice daily, allowing yourself ample time to warm up, work on current technical challenges, and practice specific songs.
During your sessions, identify specific goals and tailor your practice routine accordingly. Dial in and focus on areas that need improvement, like mastering a tricky passage or refining your dynamics.
This is the time in your journey where using practice techniques such as slow practice, deliberate repetition, and mindful listening is very beneficial. Focus on approaching each note and phrase with intention and precision.
Remember, at the intermediate stage, it's the quality of your practice that counts, not just the number of hours spent!
For Advanced Ukulele Players: Dive Deep and Diversify
As an advanced ukulele player, your commitment to practice takes on a new dimension.
By this stage, your musical journey has taught you valuable lessons about discipline, dedication, and perseverance. To continue growing as a musician, it's essential to expand your horizons and push your boundaries.
In other words, you must find new challenges!
Advanced ukulele players should devote a minimum of 1-2 hours each day to focused practice.
Use this time to refine technical proficiency, explore challenging material, and cultivate your artistic interpretation. You'll want to experiment with different musical styles and genres to really push yourself, even collaborating with fellow musicians who play different instruments to broaden your musical perspective. This helps you become a more well-rounded and adaptable musician.
Additionally, prioritize performance opportunities to provide a new challenge as well as honing your stage presence and connecting with audiences.
To go even further, seek out masterclasses, workshops, and mentorships with world-class musicians and artists to push your skills even further.
Lastly, to solidify the musical perspective you've formed over the years, teach your instrument to others who are at an earlier stage in their journey. By teaching, you make an impact on the lives of other musicians while better understanding how you see, approach, and experience playing your instrument!
The Right Amount of Practice
Regardless of your current skill level, the answer to the question, "How often should I practice my instrument?" lies in the commitment to consistent, purposeful practice.
Making this practice fun and enjoyable is all about finding the right approach and embracing a mindset of curiosity.
For beginners, 15 minutes per day is sufficient enough to form good habits and build a strong foundation. Intermediate ukulele players need at least 30-60 minutes to focus on quality practice that address their current challenges. Advanced musicians will spend a minimum of 1-2 hours daily to dive deep into their craft, embracing versatility and seeking new challenges.
Remember…
The reason we practice ukulele is to play the music we love in the way we want to play it.
Find a pace you can sustain and you will see improvement learning to play ukulele!