As many of you know, this past year was a busy one for me between writing Ukulele Exercises For Dummies and continuing to provide support and instruction in my online ukulele course Ukulele Strumming Tricks. To celebrate and reward myself, I treated myself to a new ukulele made by my friend, the master and world-renowned luthier, Mike Franks.
Needless to say, I've been really enjoying the new ukulele (!), and I wanted to tell you all about it. I'm also getting a lot of questions about it after playing it in one of my recent video lessons 5 Effective Strumming Patterns for Beginners, which I hope to help answer here.
My new M.J. Franks concert ukulele
For the last couple years, I've been playing a mahogany tenor-sized ukulele crafted and made by M.J. Franks (read about that here). I love the tenor size because it's great for my larger fingers and hands, and it's pretty versatile because you can tune it to low G tuning. This gives the ukulele a deeper, fuller sound. I think the tenor ukulele often sounds the best in low G tuning.
The problem I've run into though is that I want low G tuning, but I also want the ability to play in standard tuning. There's something about standard tuning that gives you that classic ukulele sound. I've known for awhile that I've needed to get another ukulele to have the best of both worlds.
Since I've had such a great experience with my M.J. Franks tenor ukulele, I called up Mike Franks last year to see if I could hire him to build me a custom concert-sized ukulele.
Custom M.J. Franks Concert Ukulele Specifications
The great thing about working with Mike is that you can customize a ukulele exactly to your liking. If you aren't sure what you want, just let Mike's expertise guide you.
Here is the ukulele Mike built me:
Brazilian rosewood back, sides, fretboard, bridge, headstock, and headplate
Redwood top
Honduran mahogany neck
Bone and nut saddle
Hand-cut paua abalone shell inlay for fretboard and purfling
Mother of pearl headplate inlay
Needless to say, Mike pulled out all the stops on this one! I can honestly say this ukulele is one of the finest crafted and best sounding instruments I've ever played.
One of the coolest parts about this ukulele is the very unique story behind the redwood top. I had to ask Mike to explain the details of the story to me:
"In the 1990s, a tonewood supplier named Craig Carter salvaged redwood trees which were blown down over the years from storms and such. Craig happened upon a log which had fallen across a ravine. The portion suspended in the air proved to have such exceptional tonewood qualities that he named it the "Lucky Strike" or "LS". The LS tops are legendary and have sold for more than $1,000. You can read about the LS tops here or Google "Craig Carter LS". I was lucky to obtain a piece of LS redwood that was not big enough for a guitar top but yielded a few ukulele tops. As far as I know, there are only 2 ukuleles with LS tops, yours & mine!"
As you can tell, this is quite a special instrument. It has exactly that classic ukulele sound I was looking for. It's bright, lively and warm. The tone is crisp when strummed and crystal clear when fingerpicked. The intonation is spot on and it is tremendously easy to play up and down the fretboard (Mike hand-carved the neck and fretboard).
"LS" redwood top and Brazilian rosewood back and sides
Here is a video of me playing "Ain't She Sweet" on the new ukulele:
If you are looking to invest in an heirloom-quality, custom ukulele, I highly recommend working with Mike. I've heard from many of you who have had Mike build you a ukulele and have had a wonderful experience. You can find him on the web at M.J. Franks Guitars, his Facebook page here, or just give him a call at 586-703-2700.
Scroll down for some more pictures of the construction of the ukulele and the finished product from my time touring Mike Franks' workshop.
Construction of the new ukulele in the beginning stages; plus, Mike Franks playing an old Martin ukulele
It's coming together. This was before the gloss finish was applied.
Mike Franks putting the final touches on the saddle
Brazilian rosewood back and sides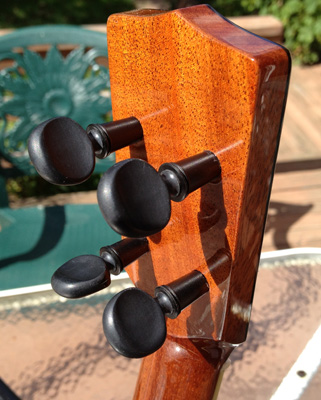 I couldn't be happier. Thanks, Mike!