Having a hard time figuring out what size of ukulele to buy? Maybe you're trying to figure out what size of ukulele you have? Whatever your questions are, we're going to look at the different sizes of ukuleles and the advantages and disadvantages of each one.
There are four main types (or sizes) of ukuleles:
As you can see, the soprano is the smallest and the baritone is the largest.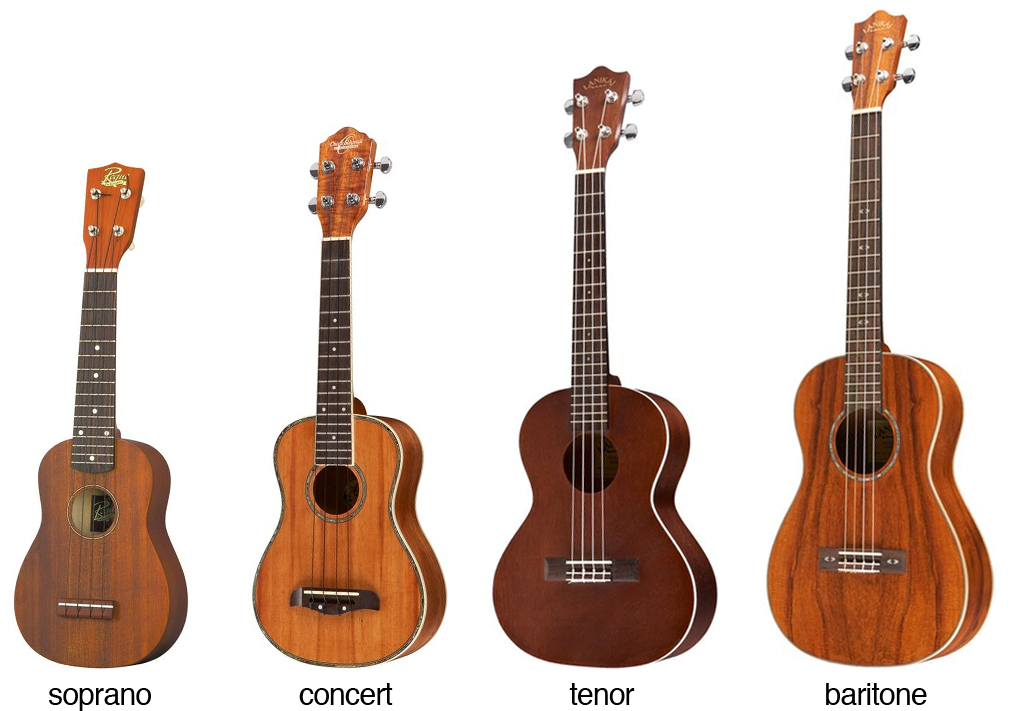 The Four Different Ukulele Sizes or Types
As you'll discover, there's no "one-size-fits-all" when to playing ukulele but there are unique benefits and drawbacks to each one. In fact, after reading this, you'll probably want a ukulele in every size!
Don't say I didn't warn you.
Let's take a look!
Soprano Ukulele
Length: 21″
Tuning: GCEA, ADF#B
Number of frets: 12-15
The most common and standard type of ukulele is the soprano ukulele. It's the smallest ukulele and is known for its thin, jangly sound so commonly associated with ukuleles. Because it's so small, it's perfect for traveling.

The Lanikai LU-11 Soprano Uke – a great ukulele for beginners
Sometimes people with larger fingers or hands have trouble playing the soprano ukulele because the frets are closer together. Because the strings have less tension on a soprano uke, you might find it easy to accidentally bend a string out of tune.
Despite these relatively minor downsides, the soprano ukulele is probably the best bang for the buck. In comparison to other types of ukuleles, it can usually be had for the cheapest price.
Take a listen to how a soprano uke sounds in the following video by doogey9.
Concert Ukulele
Length: 23″
Tuning: GCEA (re-entrant), GCEA (linear)
Number of frets: 15-20
The concert ukulele, sometimes referred to as the alto, is just a little bit bigger than the soprano and some would consider it to have a fuller sound. It's commonly tuned in standard tuning like the soprano uke although some people will opt to tune their g-string down an octave to low G tuning, also known as linear tuning.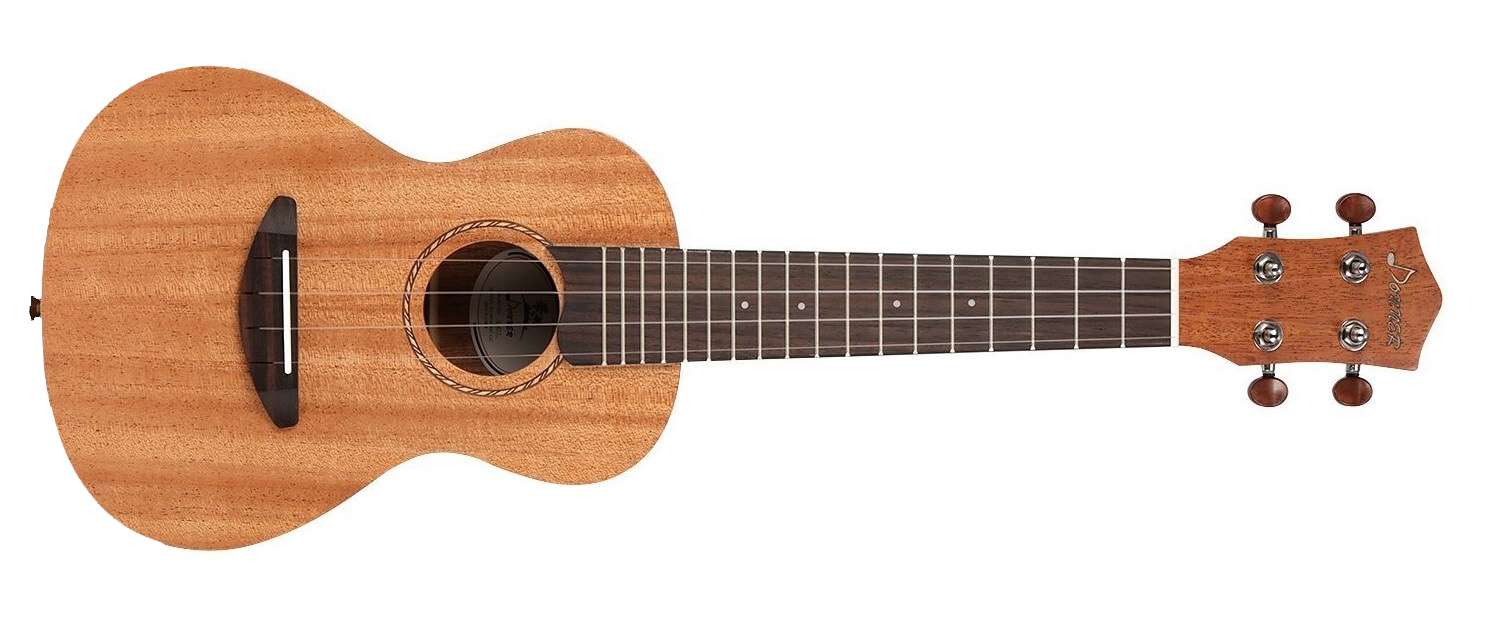 The Donner Concert Ukulele – increased frets and spacing on the fretboard
Because a concert uke is longer than a soprano, there will be more tension on the strings. This can be beneficial if you find yourself bending strings out of tune as you press your fingers down on the strings against the frets.
Additionally, the frets are slightly more spaced on a concert ukulele versus a soprano, so folks with larger fingers might find it easier to play. There can be up to 20 frets on a concert ukulele, which allows players to navigate to higher notes on the fretboard which is beneficial for playing in styles like fingerstyle.
Take a listen to the following performance on a concert ukulele by Ribbeemusic.
Tenor Ukulele
Length: 26″
Tuning: GCEA (re-entrant), GCEA (linear)
Number of frets: 15+
The tenor ukulele is just a little bit bigger than the concert uke. The overall sound and tone is even fuller than its smaller brothers. For performers, the tenor ukulele is ideal because you get a rich full sound, and since you have more frets, you're able to reach higher notes on the fretboard.

The Cordoba 20TM Tenor Ukulele – best choice for those with large hands or fingers
Tenor ukuleles are commonly tuned in standard re-entrant or linear tuning, but some will choose to tune it lower like a baritone ukulele to D-G-B-E.
In this video, IveBenCrazy gives us a performance of "Sweet Caroline" on a tenor ukulele.
Baritone Ukulele
Length: 30″+
Tuning: DGBE, GCEA
Number of frets: 19+
The baritone ukulele, sometimes referred to as just the "bari", is the biggest of the ukes. It's tuned down lower than the other sizes to D-G-B-E baritone tuning, which is equivalent to the tuning of the bottom four strings of a guitar. This is going to produce a significantly deeper sound.

The Kala KA-BG Baritone Ukulele – the biggest ukulele size
While you can still strum a baritone like any other ukulele, you're going to really lose that bright, crisp sound that you'd get with a soprano. Additionally, those with small hands and fingers may struggle to reach certain chords on the baritone. Bari ukes are great for blues players and fingerpickers or those who prefer that deeper and fuller sound. That said, some baritone players will tune up their instrument to standard tuning (G-C-E-A) and play it like a "normal" ukulele.
If you decide to go the baritone route, you may have some difficulties following along with my lessons, but I have some tips here for you on that. Not to mention just recently we added a full baritone ukulele chord library here so you can easily look up any baritone chord.
In the following video, mugambismonkey gives us a performance of an original song he wrote on the ukulele called "Kiss Me." You can really hear how much lower the baritone uke sounds in this video.
What Ukulele is Best for Me?
Generally speaking, beginners will start out on a soprano uke because you can usually find a decently playable one for a low price.
If you have small hands and fingers but want a slightly fuller sound, you can't go wrong with a concert-sized ukulele.
For those who really want to solo in the fingerpicking style on their ukulele, you'll definitely want a tenor-sized ukulele to more easily reach notes higher up the fretboard.
And for those with really large hands and fingers, the baritone ukulele might be best for you, and remember, you can always tune it like a standard-tuned ukulele to easily follow along with my lessons.
That said, the best thing you can do is to go to your nearest music store and try out a variety of different ukuleles. What ukulele sounds best to you? What ukulele feels best to you? For some, what ukulele looks best to you? These questions are more often not answered as you start playing different kinds of ukuleles.
Reader Response
What's your favorite size of ukulele? I have a tenor uke and I love it. It gives me a nice full sound, but I still get the plunky, crisp sound when I strum it. I also like that there is more tension on the strings and the frets are wider for my fingers, meaning I'm less likely to inadvertently bend a string out of tune.
Share your thoughts, questions, or comments below.