I've always thought ukulele is a romantic instrument so of course learning to play Perfect by the romantic hit-song-wonder Ed Sheeran on ukulele is only fitting.
Whether or not you want to woo that special someone or perform this on ukulele at your friend's wedding for their first dance, with the simple chord shapes and a simple strumming pattern I show you in the video below, you can start playing this song today.
Scroll down to get the ukulele chords and a video lesson giving you tricks and tips for how to play Perfect on ukulele.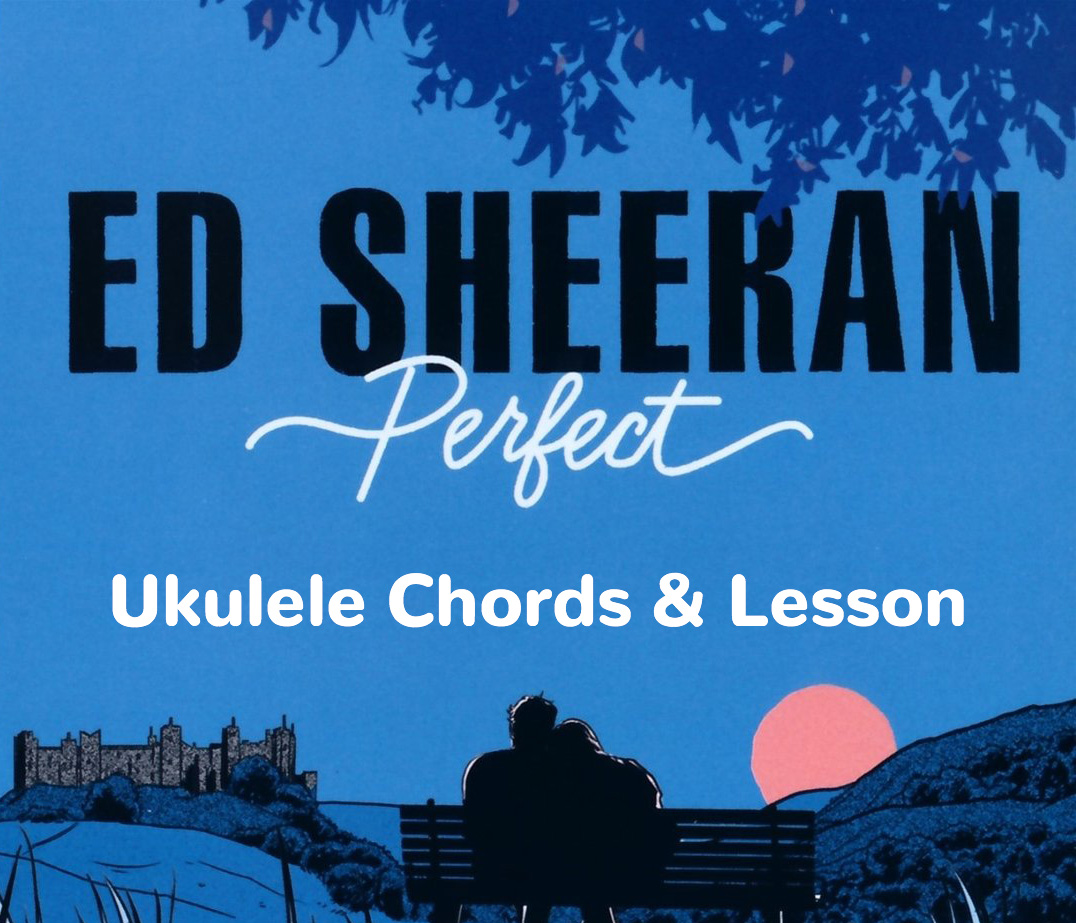 If you feel lost on the chords or strumming for this song, then I recommend starting with the free four-lesson video course Learn to Play Ukulele Today where I teach you how to play three extremely versatile strumming patterns that provide a perfect foundation to play this song, especially if you're new to playing ukulele.
Yes! I want the free Learn To Play Ukulele Today video lesson course to build the foundations of chords and strumming.
Please note: I take your privacy very seriously. I promise never to spam you or distribute your email to a third party.
Tips and Tricks for Playing Perfect on Ukulele
In the video, I play Perfect on ukulele and provide tips and tricks on the chords and strumming used to play this song.
This song is strummed to a count of six. In this video, I highlight two different strumming patterns you can use to play this song.
"Perfect" by Ed Sheeran Ukulele Chords
Here are the chords to play Perfect by Ed Sheeran on ukulele.
In the recorded version, there are some slash chords that include different bass notes. For instance, in the instrumental turnaround from the chorus a D/F# slash chord is used, but because slash chords indicate bass notes, and because the ukulele does not have a lower bass note register, I've simplified these slash chords for ukulele. Listen to my cover above to hear how these chords sound.
This song is originally recorded in the key of Ab. Use a ukulele capo on the 1st fret to transpose this song up to the key of Ab.
To learn the fingering for any of these chords, refer to the ukulele chord library. To get chords to other songs visit the ukulele songs page.
I found a love for me
Darling, just dive right in
and follow my lead
Well, I found a girl,
beautiful and sweet
Oh, I never knew you were
the someone waiting for me
'Cause we were just kids when we
fell in love
Not knowing what it was
I will not give you up this ti – me
But darling, just kiss me slow,
your heart is all I own
And in your eyes you're holding mine
Baby, I'm dancing in the dark
with you between my arms
Barefoot on the grass,
listening to our favorite song
When you said you looked a mess,
I whispered underneath my breath
But you heard it, darling,
you look perfect
to – night
Well I found a woman,
stronger than anyone I know
She shares my dreams,
I hope that someday I'll share her home
I found a love,
to carry more than just my secrets
To carry love,
to carry children of our own
We are still kids, but we're so in love
Fighting against all odds
I know we'll be alright this ti – me
Darling, just hold my hand
Be my girl, I'll be your man
I see my future in your eyes
Baby, I'm dancing in the dark
with you between my arms
Barefoot on the grass,
listening to our favorite song
When I saw you in that dress,
looking so beautiful
I don't deserve this, darling,
you look perfect tonight
Baby, I'm dancing in the dark
with you between my arms
Barefoot on the grass,
listening to our favorite song
I have faith in what I see
Now I know I have met an angel in person
And she looks perfect,
No I don't deserve this
You look perfect
to – night