A musician should only sound like what they do, and no two musicians sound the same. It's an individual-feel thing, you know?

– Dave Grohl, from the band "Foo Fighters"
Thwhack!
Imagine getting smacked with a ruler every time you hit a wrong note or made a mistake.
No, this didn't happen to me, but my father and aunt would tell me about their strict piano teacher growing up.
"She was a mean old bird," my dad would say.
I grew up in a musical family, and by musical, I mean every holiday and family get-together was spent around the piano with ukuleles or guitars in hand playing folk songs, hymns, or carols.
Fortunately, my family members decided to take a different approach when it came to me learning. The philosophy was there are instruments sitting around, so why not pick one up and start playing!
By the time I was six, I would play duets on the piano with my mom or strum the chords to I've Been Working On the Railroad on ukulele.
Thank God I had no one to take out a ruler and give me a nice "thwhack" if I made a mistake.
Why Bad Habits and Mistakes are Overrated
One of the biggest reasons I love teaching the ukulele so much is that it's an instrument for rule breakers.
Think about it.
You have more traditional Hawaiian ukulele artists like Israel Kamakawiwoʻole ("IZ") known for "Somewhere Over The Rainbow" and then you have Jake Shimabukuro who shreds "While My Guitar Gently Weeps" all the while you have James Hill who drums and plays Michael Jackson's "Billie Jean" on ukulele.
Rule breakers.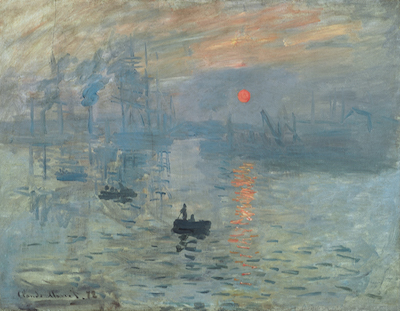 "Impression, Sunrise" by Claude Monet
One of the most famous painters and founder of French impressionism Claude Monet was widely rejected by critics. His paintings were considered ugly and unfinished. For quite some time, people thought he was a joke. He painted while living most of his life in poverty.
But you know what? That didn't stop him. He created.
Again. Rule breaker.
This is why when I teach I don't like to get worried about bad habits and prim and proper technique.
I'll get asked:
"Brett, what is the right way to strum?"
If you ask me, I'll tell you three different ways to strum that are perfectly fine, all the while giving you one way that I think you'll benefit most from to help you along.
My goal is for you to find your voice with the ukulele.
As you venture into making music on the ukulele, I want to encourage you:
Don't be afraid. Break the rules.
Find new ways to play the same chord. Find new ways to strum. Find new ways to pick.
Don't be afraid of forming bad habits. Make mistakes.
Create.
It's better to play, create, and express than be perfect.
Learning to play ukulele is about experiencing the joy of music.
"But I Still Want to Learn the Right Way to Play!"
It's been said in order to break the rules you have to know them first.
The rules, skills, and techniques for playing give you a framework for thinking about creating.
This is exactly why I've spent thousands of hours creating step-by-step video lesson courses like Strumming Tricks, but from my students I'd rather have:
Creativity over strict technique
Singing loudly with friends out of key over playing it in perfect pitch
Discovering a new sound versus playing it the "right" way
If you're just beginning, don't stress.
You'll make mistakes. You'll form some bad habits.
But it's okay.
It's better to start creating noise today and just let it work itself out over time.
And for heaven's sake, no, I won't smack you with a ruler!