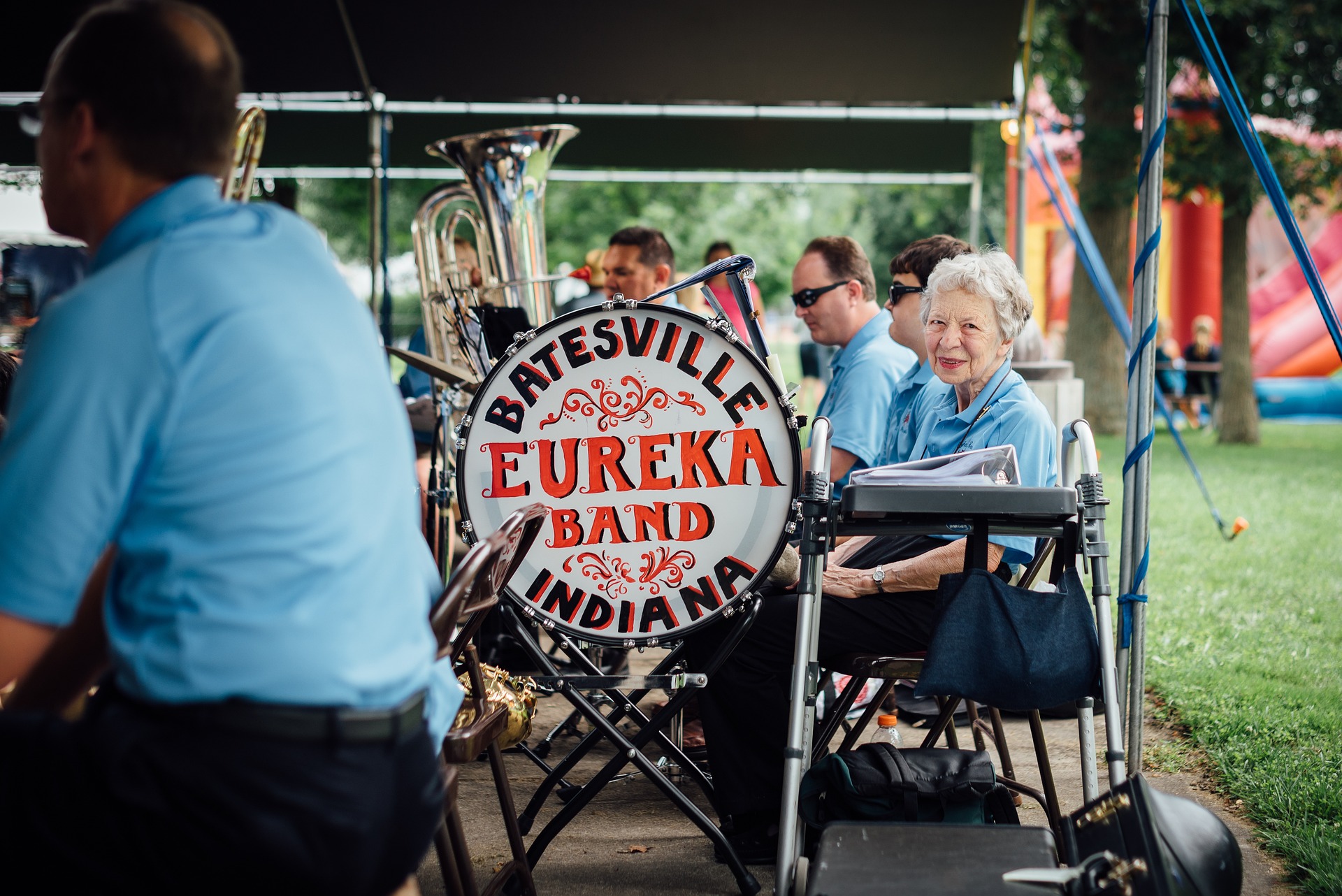 Being able to make music is a fulfilling and enriching endeavor regardless of age.
But if you're thinking about learning an instrument later in life, it's important to know that engaging in this creative pursuit isn't just about checking "Make Music" off from your bucket list, but rather, it's something that can offer remarkable health benefits.
From cognition to emotional well-being, let's explore five ways backed by research in which learning ukulele can enhance your health and overall quality of life!
1. Boost Your Brain Power
As we age, it becomes increasingly important to keep our minds sharp and engaged. Learning an instrument like the ukulele is a powerful way to achieve just that.
One scientific study published in the journal Neuropsychology found that older adults who engaged in musical training had better cognitive performance compared to those who did not.[1]
The adults who learned an instrument had:
Better working memory
Increased attention
Faster processing speed
Improved problem-solving abilities
Playing an instrument helps to maintain cognitive function and may even contribute to a reduced risk of age-related cognitive decline. A study published in BMC Neurology found that playing a musical instrument was "significantly associated with a decreased risk of dementia."[2]
The act of reading musical notation and translating it into motor movements, like figuring out a chord and how to strum it, creates new neural connections, strengthening the brain's capacity to process information more effectively!
2. Playing Music Each Day Keeps the Stress Away
Life can be stressful, but picking up a musical instrument can be an incredible stress-relieving activity.
Playing an instrument allows for an outlet of self-expression as well as an escape from the daily routine, promoting relaxation and overall well-being.
One study published in the Medical Science Monitor had participants make music on a piano keyboard for one hour guided by an instructor where the participants performed the following:
Warm up exercise
Rhythmic "drum circle" played on an electronic keyboard using percussion sound effects (that sounds fun!)
Improvisation using a simple 5-note pentatonic scale
One musical concept
Song of the day
Warm down exercise (repeating the first exercise)
Group reflection on personal progress
Farewell song
And no, these participants weren't natural-born musical geniuses!
What was interesting about this experiment was that they did it with adults ranging in age from 18 to 76 who did "not consider themselves musical." And what they found was that these one-hour music-making sessions had a statistically significant impact on reducing stress amongst the individuals.[3]
Playing an instrument later in life is a great way to relieve stress even if you've never done it before in your life!
3. Decrease Pain & Strengthen Fine Motor Skills
Learning and practicing ukulele requires precise finger movements, hand-eye coordination, and fine motor skills.
For adults in their later years, maintaining and improving physical function is crucial, and playing an instrument can contribute significantly to that goal.
A study published in the European Journal of Neuroscience examined the effects of piano training on fine motor skills in older adults. The results demonstrated that those who learned to play the piano showed significant improvement in fine motor skills and even increased cognitive and neural development into older age. The motor skills developed while playing an instrument allowed the adults to do other motor tasks "with higher acuity" or sharpness.[4]
And what about arthritis?
Can learning an instrument help reduce arthritic pain?
Yes! One researcher reported decreased arthritic pain in the hands and fingers of older students who practiced 30 minutes four days per week.[5]
The finger movements involved in playing an instrument like the ukulele provide a form of exercise for the hands and fingers that enhances finger dexterity, strengthens hand muscles, and promotes better coordination and flexibility!
4. Increase Emotional Well-Being & Feel Better
Music has a profound impact on our emotions, and learning to play an instrument can have a positive effect on our emotional well-being, particularly as we age.
Engaging in music taps into our creative side and provides a sense of accomplishment and self-expression. It boosts self-confidence and self-esteem, allowing us to discover hidden talents and unleash our inner artist. Music has the power to uplift moods, alleviate feelings of loneliness or depression, and promote overall emotional resilience, contributing to a more balanced and fulfilling life.
A study conducted by researchers at the University of London, UK highlighted the emotional impacts of music making in old age:
Active music-making has been found to provide a source of enhanced social cohesion, enjoyment, personal development, and empowerment, and to contribute to recovery from depression and maintenance of personal well-being throughout these latter stages of adult life.[6]
As a ukulele teacher, I've heard from countless students who've discovered the ukulele during a difficult time. Some have found ukulele after losing a spouse. Others have found it going through a difficult time in the hospital. And some experiencing depression.
Playing an instrument provides an outlet for self-expression and can serve as a form of therapy, helping us cope with emotional challenges and improve our overall outlook on life.
For me, I don't know what I'd do without music in my life!
5. Find New Friends & Community
Not only can playing a musical instrument help us internally but playing a musical instrument can be a social activity, offering opportunities for interaction and connection with others.
Later in life, there can be significant life changes like kids leaving the house or retirement.
Playing music with others is a way to create social connections and forge new friendships in a time where there is a lot of change.
A ukulele student of mine Lynda at her local ukulele group
Whether joining a band, orchestra, or simply playing with friends and family, music brings people together. Maintaining social engagement is crucial for mental and emotional well-being. Participating in music-related activities fosters social connections, reduces feelings of isolation, and provides a platform for collaboration and camaraderie.
Sharing the joy of music with others creates a sense of belonging and enhances overall quality of life!
A Life of Music Awaits
Learning a musical instrument later in life opens up a world of possibilities and health benefits.
The cognitive stimulation, stress reduction, fine motor skills development, emotional well-being, and social engagement that result from playing an instrument can profoundly impact the health and overall quality of life for older adults.
So, why not embark on this exciting journey and discover the amazing rewards that await?
The ukulele is a perfect instrument to learn because it's cost-friendly to get started, portable, easier on the fingers, and just plain fun! (Get my beginner ukulele recommendations.)
Remember, it's never too late to learn, and the benefits of playing a musical instrument will resonate far beyond the notes you play.
If you want to learn how to strum and play your first 20 songs on ukulele in 7 distinct styles, then join me in Strumming Tricks where I give you a step-by-step plan to go from complete beginner to proficient strummer on ukulele in a non-intimidating, friendly style.

Perfect for beginners. Become proficient in strumming, rhythm and chord changes on the ukulele, improving your skills while learning actual songs.
Citations
1. Hanna-Pladdy, B., & MacKay, A. (2011). The relation between instrumental musical activity and cognitive aging. Neuropsychology, 25(3), 378–386. https://doi.org/10.1037/a0021895
2. Arafa, A., Teramoto, M., Maeda, S. et al. Playing a musical instrument and the risk of dementia among older adults: a systematic review and meta-analysis of prospective cohort studies. BMC Neurol 22, 395 (2022). https://doi.org/10.1186/s12883-022-02902-z
3. Bittman, B., Berk, L., Shannon, M., Sharaf, M., Westengard, J., Guegler, K. J., & Ruff, D. W. (2005). Recreational music-making modulates the human stress response: a preliminary individualized gene expression strategy. Medical science monitor : international medical journal of experimental and clinical research, 11(2), BR31–BR40. https://pubmed.ncbi.nlm.nih.gov/15668624/
4. Worschech, F., James, C. E., Jünemann, K., Sinke, C., Krüger, T. H. C., Scholz, D. S., et al (2023). Fine motor control improves in older adults after one year of piano lessons: Analysis of individual development and its coupling with cognition and brain structure. European Journal of Neuroscience, 000– 000. https://doi.org/10.1111/ejn.16031
5. Colleen M. Zelazny, MME, MT-BC, Therapeutic Instrumental Music Playing in Hand Rehabilitation for Older Adults with Osteoarthritis: Four Case Studies, Journal of Music Therapy, Volume 38, Issue 2, Summer 2001, Pages 97–113, https://doi.org/10.1093/jmt/38.2.97
6. Creech, A., Hallam, S., McQueen, H., & Varvarigou, M. (2013). The power of music in the lives of older adults. Research Studies in Music Education, 35(1), 87–102. https://doi.org/10.1177/1321103X13478862