If you would have told me eight years ago that over 10,000 amazing ukulele players would be learning along with me I would have never believed you.
In 2010, I had just graduated from college after studying music and theology.
I knew I loved music but I wasn't sure what was next.
During a music internship in college, I was given a ukulele as a parting gift. I was thrilled because I grew up playing ukulele since I was six years old when my grandfather taught me how to play I've Been Working On the Railroad.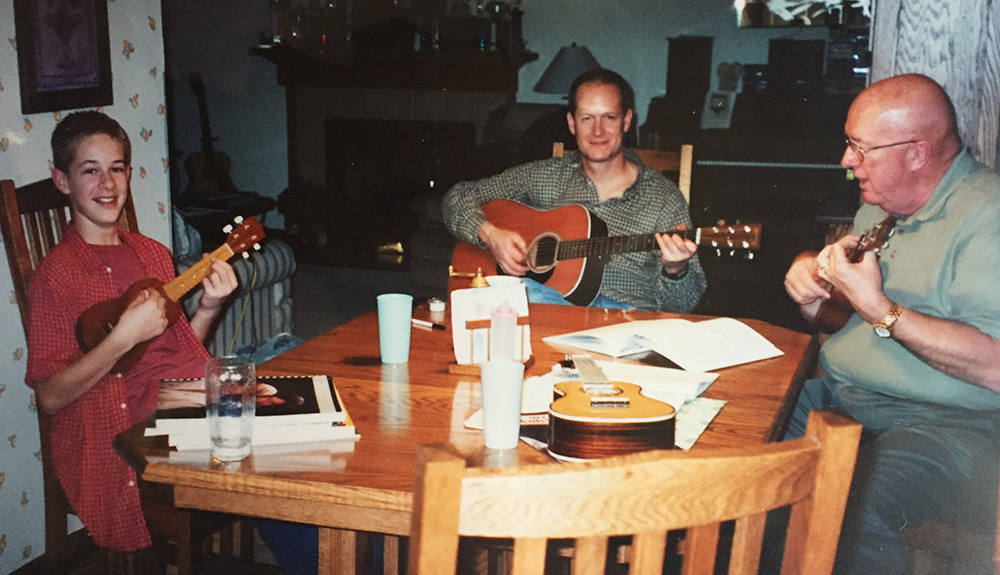 Me, my dad, and grandfather jamming out in my younger years
One morning in late 2010 I woke up with the bright idea to record myself with this new ukulele teaching how to play Somewhere Over the Rainbow on ukulele.
I nervously posted it to YouTube and could have never believed what would happen next.
If you would have told me 8 years later the video would go on to amass nearly 1 million views I would have never believed you!
I had no idea what would happen after recording that video and how it would connect me with so many amazing ukulele players like yourself who have learned to play ukulele because:
You had a lifelong dream of playing an instrument
You wanted to bring more happiness to your life
You dreamed of strumming some tunes with your kids or grandkids
You wanted to teach others and change their lives for the better
Watch the video above to hear my story of how Ukulele Tricks came to be and how you've played such a special part.
Tell me your story of how you came to learn ukulele by posting a comment on the video here.