Build Your Repertoire With Brand New Fingerpicking Solo Arpeggio Pieces on Ukulele
Let's face it.
Not all of us are gifted with an amazing singing voice.
Perhaps you are, but while strumming a few chords and a simple pattern is a lot of fun, sometimes you want more from your ukulele…
You want to be able to…
Play simple but impressive-sounding pieces that make you feel like you're progressing…
Make your ukulele "sing" up and down the fretboard with expression and emotion…
And find your "voice" playing ukulele without singing.
I'm here to say that you don't have to strum basic chords for the rest of your ukulele career!
My name is Brett McQueen and I'm a life-long ukulele player of 25+ years, author of Ukulele Exercises For Dummies and founder of Ukulele Tricks, a website dedicated to helping over 10,000 students all around the world to experience the joy of learning to play ukulele.
In the first arpeggio studies course Arpeggio Studies Vol. I (formerly known as Minor Arpeggio Studies) I showed you how you can play your ukulele expressively up and down the fretboard using your picking fingers as your musical voice to play melodic and harmonically complex-sounding arpeggio pieces on the ukulele.
And now, I'm back with a whole NEW series of arpeggio studies to take you even deeper.
Introducing a Brand New FOCUS Course From Ukulele Tricks – Go Deeper With Solo Arpeggio Pieces in "Arpeggio Studies Vol. II"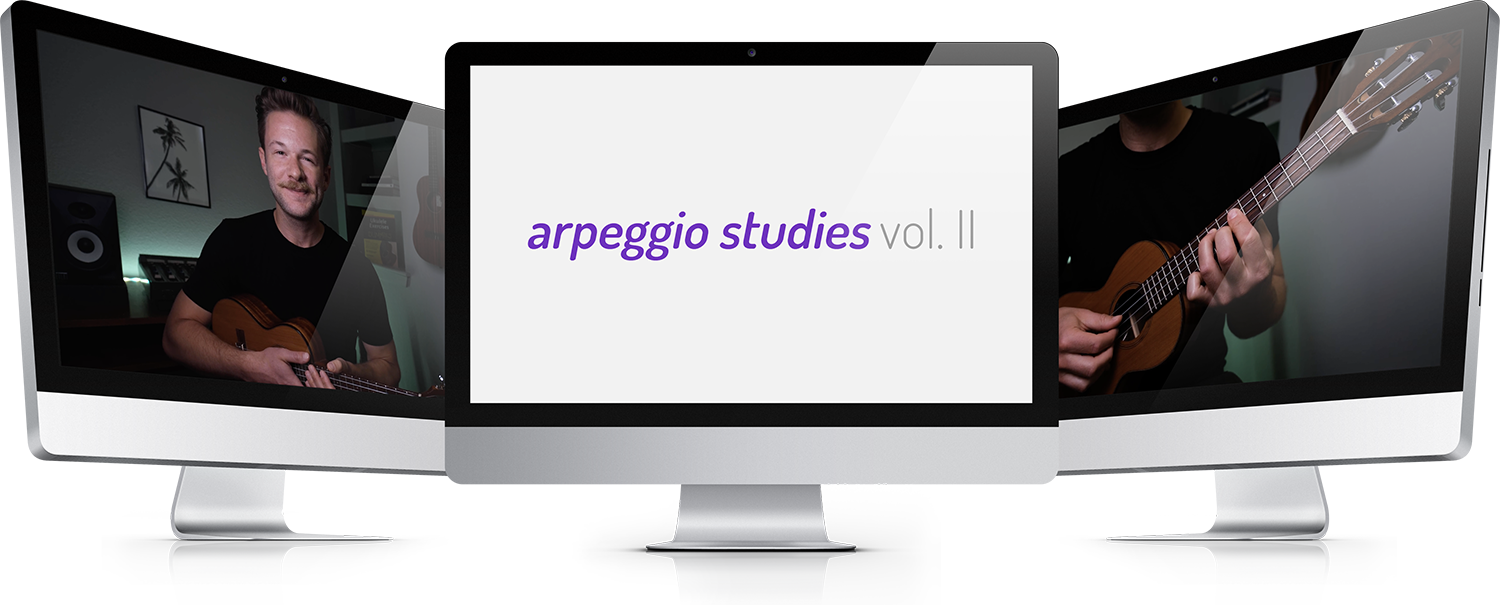 Just Take Me to the Sign Up – I'm Ready to Enroll Now!
Here's What's New in Arpeggio Studies Vol. II
I wanted to do something a little different for this new course and volume of pieces.
But first, why arpeggio pieces?
These pieces are inspired by 18th and 19th century Spanish guitar composers like Francisco Tárrega or Dionisio Aguado.
These composers were also teachers who recognized that the best way for their students to improve their technique on guitar was to play actual beautiful-sounding music.
So they composed pieces that helped students:
Improve picking hand dexterity and speed
Strengthen the fretting hand in various positions across the fretboard
Build confidence feeling the satisfaction of learning to make beautiful music
So in the first volume of arpeggio studies, I composed six distinct solo pieces specifically for the ukulele to help you do all the above.
But where this first volume focused exclusively on pieces composed in minor keys, which can have a moody, complex and even emotional or brooding sound, this new volume Arpeggio Studies Vol. II combines pieces composed in both minor AND major keys and even includes pieces that span all four strings!
Arpeggio Studies Vol. II Includes Pieces Written in Major And Minor Keys That Span All Four Strings
In the same spirit of the first volume, I want to take you even deeper in this second volume.
These pieces each have a different feeling and emotion giving you a variety of solos to include in your repertoire for your own enjoyment or to impress family and friends.
By learning these pieces, you not only learn to make beautiful music but you feel the satisfaction of progressing at your instrument.
Take a listen to each of the six studies you learn in the Arpeggio Studies Vol. II course.
Arpeggio Studies Vol. II, No. 1
Arpeggio Studies Vol. II, No. 2
Arpeggio Studies Vol. II, No. 3
Arpeggio Studies Vol. II, No. 4
Arpeggio Studies Vol. II, No. 5
Arpeggio Studies Vol. II, No. 6
Here's What You Learn In Arpeggio Studies Vol. II
The driving philosophy of this course is to start making music solo right away.
For every lesson, I teach you step by step a specific piece of music and each piece includes certain techniques or skills you must learn to progress.
This means you're improving your skills while playing solo!
There are five main focus areas as you learn these pieces.
1. Pick Arpeggios That Span Three AND Four Strings
In the first volume of pieces, you discovered how much music you can solo just on the bottom three strings of the ukulele.
But in this brand new Arpeggio Studies Vol. II, you begin to incorporate the top g-string to create a more harmonically-rich performance.
This can be challenging but with expertly arranged compositions and the right approach you can learn to play these pieces, which will improve the fluidity and dexterity of your picking hand fingers.
In the course, you also learn an effective arpeggio exercise to improve your control down to each individual finger.
2. Uncover Strategies to Position Your Fingers For Chords Without Hesitating or Pausing While Keeping the Fingerpicking Going
Sometimes it surprises students when studying a solo arpeggio piece for the first time.
To be clear, everything is there in detail in the arrangement to learn to play the piece.
But learning solo pieces is a bit different than learning three chords shapes and a single strumming pattern.
I pride myself in having the best solo arrangements for ukulele, but the process of learning a piece is key… specifically studying the music and strategizing about fretting hand positions.
For each piece, in the instruction, I cover the trickier parts of the song, sharing my strategies and ways of thinking about the piece.
I teach you how to think ahead and anticipate chord changes to switch without hesitating or pausing.
3. Discover Specific Articulation Techniques to Make Your Performance More Emotional and Expressive
The secret to sounding expressive and emotional in your performance is to make your playing sound more like a human voice.
You do this by learning specific articulation techniques like:
Tremolo
Hammer ons
Pull offs
Trills
Harmonic notes
… and much more.
By learning the right way to practice each of these techniques, you can instantly inject emotion and expression into your performances.
4. Learn the 3-Step Process to Improve Fingerpicking Speed (Without a Metronome)
If you watch me perform Arpeggio Studies Vol. II, No. 5 above you might have noticed that I pick up the speed.
When watching that it can be easy to think…
"I could never pick that fast!"
But I wrote that piece specifically to teach you a process for improving fingerpicking speed… without setting a metronome and without brute force.
I don't know about you but trying to "trick" myself by gradually bumping up the speed of the metronome never helped me fingerpick faster.
It just made me frustrated.
So instead, I show you the 3-step process that actually allowed me to relax into speed and get faster… without pain and frustration.
5.Play Melodic, Intricate-Sounding Arpeggio-Based Pieces
It's true…
You can't cheat yourself out of learning good technique.
But learning to play solo isn't about sweating away in the practice room playing mind-numbing exercises over and over and over again…
Yes, I give you important exercises throughout the course to help you internalize the techniques used to play the pieces, but my goal is to spend the majority of the focus learning to play actual music.
So whenever I'm teaching you a super important technique you can bet you're going to use it to playing a beautiful-sounding piece of music.
This means you're learning technique as you're learning to play these beautiful-sounding pieces with small easy-to-follow and progressive steps.
Here's What You Get In the Course
Upon purchase, you register your very own Ukulele Tricks member account (previous members may log in to their existing account upon sign up). This special member account gives you complete access to all online course contents in a private, members-only area of Ukulele Tricks.
Go at your own pace and access the course anywhere and anytime from your computer or mobile device. All you need is an internet connection.
Note: For your benefit, the course never expires and there are absolutely no renewal fees.
Once you're a member, you're always a member… for life!
In the course, you get:
Over Two Hours of High-Definition Video Lessons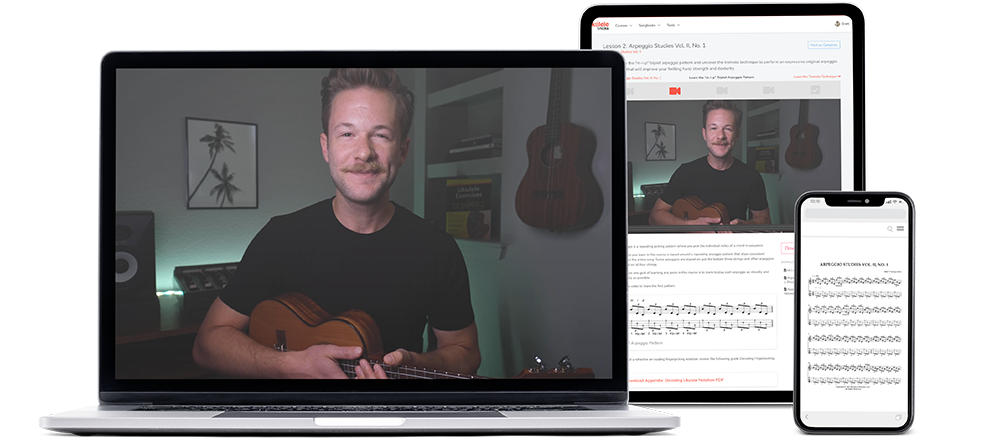 Arpeggio Studies Vol. II includes a total of 23 videos where every video lesson is shot in high-definition, so you can see exactly what's going on. Watch the lessons in full screen to get an even better picture. All videos are compatible with your computer or mobile device.
30+ Pages Printer-Friendly Lesson Worksheets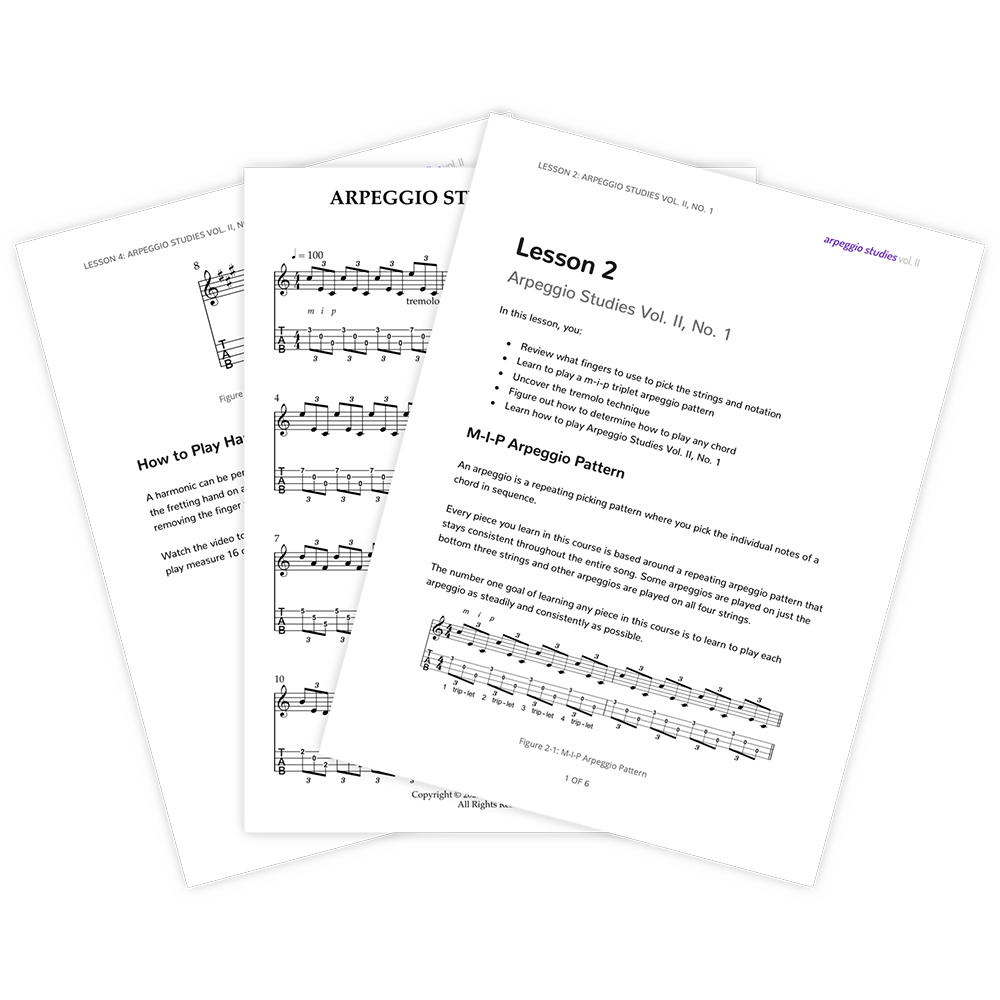 There is a lot of content jam-packed in the course! Rest assured–everything is organized in a very easy-to-follow, step-by-step way. For each lesson, there's a printer-friendly worksheet with charts, diagrams, pictures, practice objectives, helpful instruction, and much more.
FREE Supportive Lesson Discussion Area
Get my full support with the course as well as interact with other students and receive support. For every lesson, there is a place to post your questions and comments that might come up during the lesson. This area is often just as valuable as the lesson itself where you can get additional tips, tricks and encouragement from other students or me your teacher!
An UNBEATABLE Guarantee: Try the Course For a Full 30 Days, 100% Risk-Free
I promise you if you follow along with each lesson and put in the practice you will become a better ukulele player with Arpeggio Studies Vol. II. So much so that I back the course with a 30-day, 100% money-back guarantee.
This means, if for whatever reason you try the course and don't LOVE it, I want you to email me and I will give you all your money back.
This guarantee lasts 30 days which means you can try the WHOLE course and then decide if it's right for you. Join the program and try it for yourself. It's as simple as that. You have nothing to lose.
Join Arpeggio Studies Vol. II Now and Begin to Learn the First Piece in Minutes
To get started, click the "Get Instant Access" button below to register your Ukulele Tricks account and begin the Arpeggio Studies Vol. II course. You're just minutes from taking your skills to the next level.
Get Started Now For a One-Time Price of $47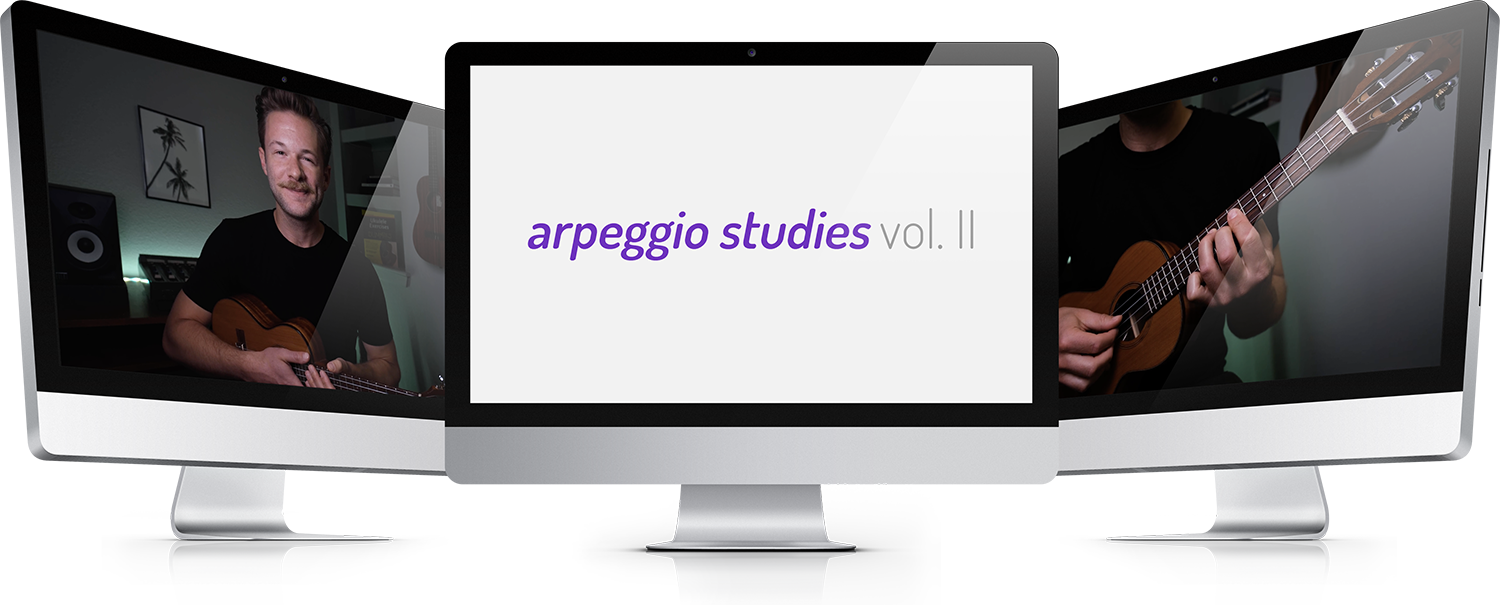 Sorry! Course now closed until public release.
If you have any questions or concerns about the songbook, send us an email. We're happy to help.
Frequently Asked Questions
"What happens when I buy the course?"
Once you complete your purchase, you'll be redirected to the Ukulele Tricks Member Area where you can access all the course contents. Existing students will have the option to sign in to their account upon sign up.
"Can I use my iPad, iPhone/Android, mobile device or tablet?"
Yes, the course is compatible with mobile devices.
"Do you ship anything to me?"
No. All course contents are accessible from the Ukulele Tricks Member Area upon purchase.
"How long do I have to access the course? Does it expire?"
You have unlimited access to the course. Your membership never expires.
"Can you ship me a physical DVD or book in the mail?"
No, the course is not available in a physical DVD or book format.
"I've never played ukulele before in my life. Is this course a good place to start?"
This course is designed for ukulele players who already grasp the basics. If you've never played the ukulele, we recommend starting with the Strumming Tricks course. For beginner fingerpicking instruction, start with the Fingerpicking Tricks course.
For any other questions, we're here to help. Send us an email.