Discover How You Can Learn to Fingerpick Solo Arpeggio Pieces on Ukulele
One of the most exciting aspects of playing ukulele is that there are several different ways to find your "voice" and make music… even without singing.
You don't have to sing and strum chords for the rest of your ukulele career.
You can become an expressive and dynamic solo ukulele player using your picking fingers as your musical voice to play melodic and harmonically complex-sounding arpeggio pieces on the ukulele.
My name is Brett McQueen (that's me on the right) and I'm a life-long ukulele player, author of Ukulele Exercises For Dummies and founder of Ukulele Tricks, a website dedicated to helping thousands of people all around the world to experience the joy of learning to play ukulele.
Let me ask you:
Do you dream of becoming a solo ukulele player?
Do you love to fingerpick but have a hard time finding quality song arrangements to learn and progress?
Do you desire to find your "voice" playing ukulele without singing?
If you answer "yes" to any of those questions, then, you're going to love Minor Arpeggio Studies.
Introducing a Brand New FOCUS Course From Ukulele Tricks – Learn to Fingerpick Solo Arpeggio Pieces on Your Ukulele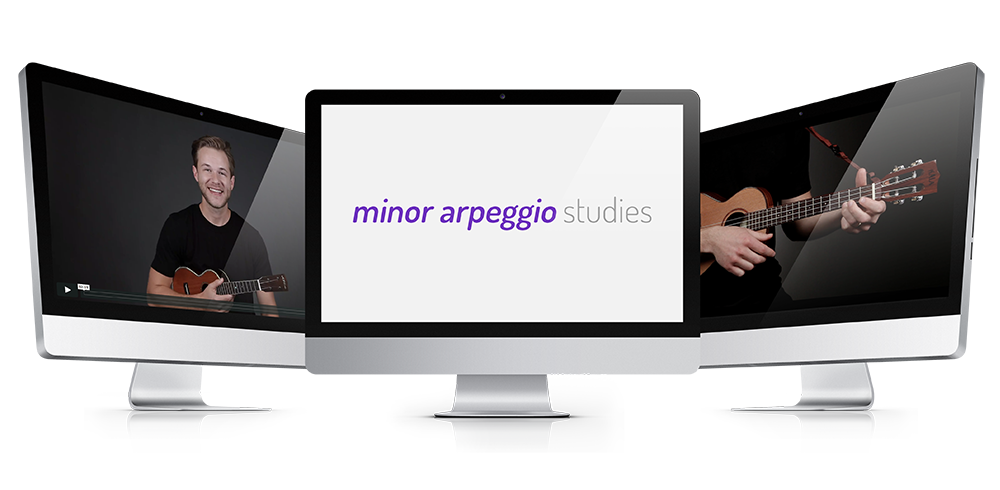 Just Take Me to the Sign Up – I'm Ready to Enroll Now!
Why You Need to Learn Études to Help You Master Solo Ukulele Playing
"Études?!" you say.
"What in the world is an 'étude'?"
Before the ukulele there was the Spanish or classical guitar.
In the 18th and 19th centuries, famous Spanish guitar composers like Francisco Tárrega or Dionisio Aguado composed songbooks or collections of short guitar pieces called études known as studies.
So, if you were a student learning from Tárrega, you would start at the beginning of his collection of guitar studies and begin to progress.
Each study was designed to teach you a particular skill or work a specific group of muscles in your picking or fretting hand, improving your dexterity, strength, or speed.
These renowned composers recognized that one of the best ways to learn how to play was to start making actual music.
Unfortunately, There's a Big Problem for Ukulele Players With These Old Studies
Guitar students to this day still learn to improve their skills with these études.
In fact, when I was in college, my guitar teacher had me learn a variety of pieces from Tárrega, Aguado, Villa-Lobos and even Bach. I was required to play a selection of them at recital.
Because of how much these pieces helped me, I went on to rearrange a few of them for ukulele to teach them in the flagship Ukulele Tricks fingerpicking course Fingerpicking Tricks.
Hundreds of students have told me how much they love these pieces and they want more of these pieces to learn.
But there's a big problem learning these pieces on ukulele.
Original 18th and 19th century études were composed for a six-string guitar not a four-string ukulele.
This means in order to arrange these guitar pieces for ukulele you have to make hard choices about cutting out certain notes and even removing entire sections of the piece to make them compatible for and playable on ukulele.
This is Why I Created Minor Arpeggio Studies – Original Studies Arranged for Ukulele to Help You Improve Your Skills
I took it upon myself to compose six original minor arpeggio pieces for ukulele to:
Help you improve your picking hand dexterity and speed
Give you pieces that span notes across the fretboard to strengthen your fretting hand
Feel the satisfaction of learning beautiful and intricate-sounding pieces
I'm proud to introduce you to these pieces for you to learn and play for your family and friends.
Because these pieces are written exclusively in minor keys, they have a dark, complex and moody sound to them that is sure to impress for your audience.
Take a listen to each of the six studies you learn in the Minor Arpeggio Studies course.
Minor Arpeggio Studies, No. 1
Minor Arpeggio Studies, No. 2
Minor Arpeggio Studies, No. 3
Minor Arpeggio Studies, No. 4
Minor Arpeggio Studies, No. 5
Minor Arpeggio Studies, No. 6
Where the flagship Ukulele Tricks course Fingerpicking Tricks taught you the core broad-level aspects to fingerpicking the ukulele in multiple styles, in this brand new FOCUS course Minor Arpeggio Studies, we get specific and take a much deeper look at fingerpicking solo arpeggio pieces on ukulele.
Here's What You Learn In Minor Arpeggio Studies
The goal with this course is to get you making music right from the start as a solo ukulele player.
However, there are five main focus areas as you learn to play these pieces.
1. Pick Eighth Note and Triplet Rhythm Arpeggios
The basis of these pieces are the arpeggio rhythms that are played with the picking hand.
Each of these arpeggios is intended to improve the dexterity, independence and speed of your picking fingers.
This means you learn how to keep a steady picking rhythm going that is separate from your fretting hand fingers creating a rock-steady rhythm to provide a foundation for the melody and harmony you go on to create.
2. Challenge Your Fretting Hand With Chords Across the Fretboard
The focus of this course is not just on the picking hand.
In fact, the magic happens with the fun and sometimes challenging finger positions you perform with the fretting hand. You'll learn how to use all four fingers of the fretting hand to play chords across the ukulele fretboard.
One of the most exciting aspects of learning these pieces is not just discovering the unique-sounding chords but becoming confident in a wide variety of chord changes.
3. Discover How to Figure Out How to Position Your Fingers Without a Chord Diagram
Solo pieces are often notated with just the sheet music.
Now, for this course, I not only include the sheet music but also the ukulele tab so you can easily follow along. Not to mention, I give you an easy-to-follow instructional on how to read ukulele tab incase you are unfamiliar.
That said, with solo pieces, because the fretting hand positions are unique, you're often required to use your own ingenuity and creativity to come up with the correct position to set yourself up for the chord change that follows.
You'll develop skills in this area and with the video lessons I give you my best tips for those most challenging positions.
4. Learn to Play Melodic, Intricate-Sounding Arpeggio-Based Pieces
Here's the thing:
Technique is key.
But there's so much technique to learn while learning to make actual music. My goal isn't to bog you down with mind-numbing technique but to inspire you by taking one aspect of technique and applying that to play a solo piece.
This means you're learning technique as you're learning to play these beautiful-sounding pieces with small easy-to-follow and progressive steps.
5. Explore New Ways to Make Your Picking Sound Expressive and Emotive
Have you ever noticed you can technically be playing the correct notes in a song but that doesn't always mean it will sound musical?
Yes, you have to learn the notes and the arpeggio to play these pieces, but it's another thing to take that and then express that music dynamically and expressively.
How do you do that?
In Minor Arpeggio Studies, I give you practical exercises for you to work on to improve your dynamics and expression and I show you how I approach playing these pieces.
Here's What You Get In the Course
Upon purchase, you register your very own Ukulele Tricks member account (previous members may log in to their existing account upon sign up). This special member account gives you complete access to all online course contents in a private, members-only area of Ukulele Tricks.
Go at your own pace and access the course anywhere and anytime from your computer or mobile device. All you need is an internet connection.
Note: For your benefit, the course never expires and there are absolutely no renewal fees.
Once you're a member, you're always a member… for life!
In the course, you get:
60+ Minutes of High-Definition Video Lessons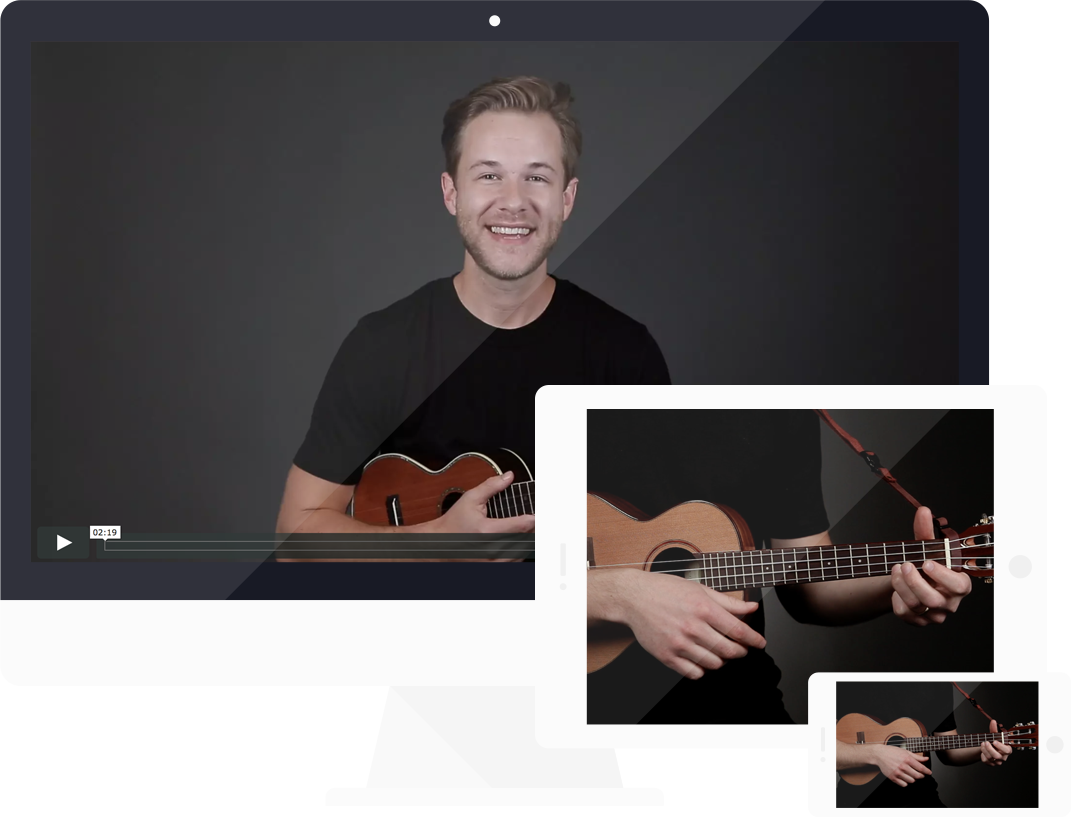 This course includes a total of 19 videos where every video lesson is shot in high-definition, so you can see exactly what's going on. Watch the lessons in full screen to get an even better picture. All videos are compatible with your computer or mobile device.
30+ Pages Printer-Friendly Lesson Worksheets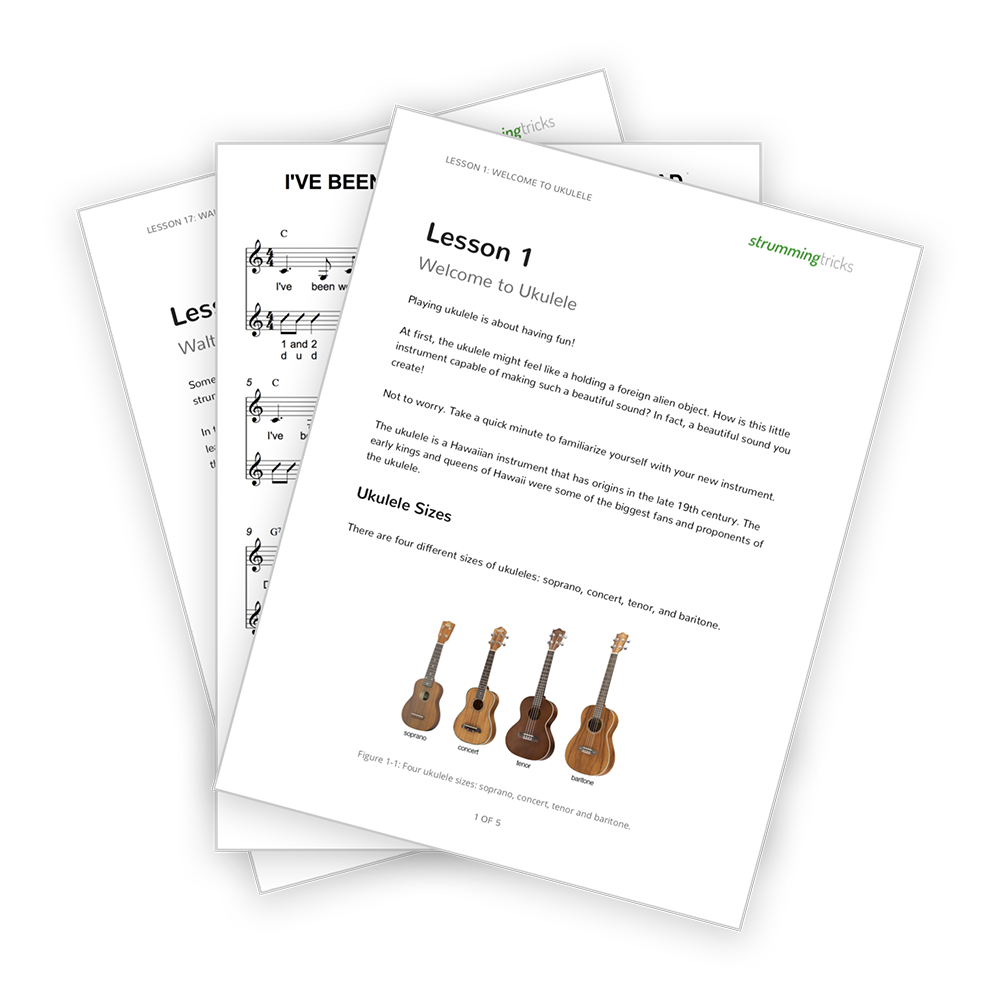 There is a lot of content jam-packed in the course! Rest assured–everything is organized in a very easy-to-follow, step-by-step way. For each lesson, there's a printer-friendly worksheet with charts, diagrams, pictures, practice objectives, helpful instruction, and much more.
Supportive Lesson Discussion Area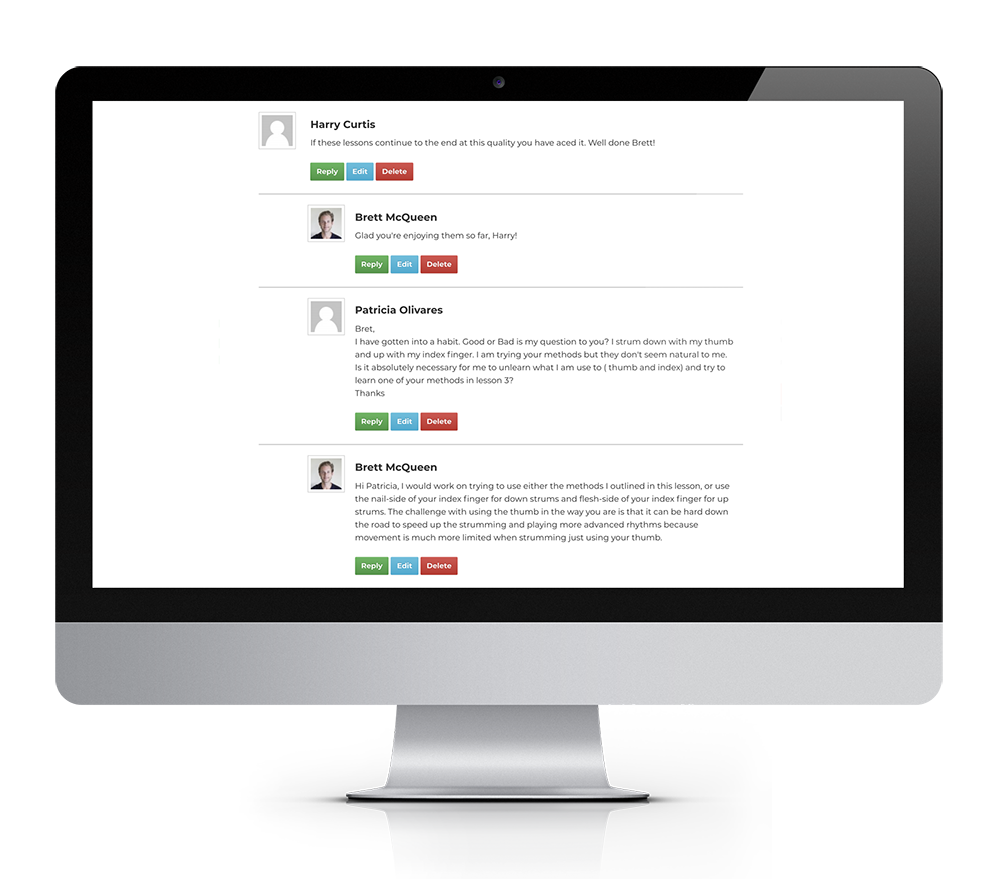 Interact with other students and receive support. For every lesson, there is a place to post your questions and comments that might come up during the lesson. This area is often just as valuable as the lesson itself where you can get additional tips, tricks and encouragement from other students or me your teacher.
An UNBEATABLE Guarantee: Try the Course For a Full 30 Days, 100% Risk-Free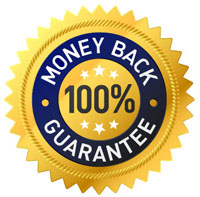 I promise you if you follow along with each lesson and put in the practice you will become a better ukulele player with Minor Arpeggio Studies. So much so that I back the course with a 30-day, 100% money-back guarantee.
This means, if for whatever reason you try the course and don't LOVE it, I want you to email me and I will give you all your money back.
This guarantee lasts 30 days which means you can try the WHOLE course and then decide if it's right for you. Join the program and try it for yourself. It's as simple as that. You have nothing to lose.
Join Minor Arpeggio Studies Now and Begin to Learn the First Piece in Minutes
To get started, click the "Get Instant Access" button below to register your Ukulele Tricks account and begin the Minor Arpeggio Studies course. You're just minutes from taking your skills to the next level.
Get Started Now For a One-Time Price of $47
If you have any questions or concerns about the songbook, send us an email. We're happy to help.
Frequently Asked Questions
"What happens when I buy the course?"
Once you complete your purchase, you'll be redirected to the Ukulele Tricks Member Area where you can access all the course contents. Existing students will have the option to sign in to their account upon sign up.
"Can I use my iPad, iPhone/Android, mobile device or tablet?"
Yes, the course is compatible with mobile devices.
"Do you ship anything to me?"
No. All course contents are accessible from the Ukulele Tricks Member Area upon purchase.
"How long do I have to access the course? Does it expire?"
You have unlimited access to the course. Your membership never expires.
"Can you ship me a physical DVD or book in the mail?"
No, the course is not available in a physical DVD or book format.
"I've never played ukulele before in my life. Is this course a good place to start?"
This course is designed for ukulele players who already grasp the basics. If you've never played the ukulele, we recommend starting with the Strumming Tricks course. For beginner fingerpicking instruction, start with the Fingerpicking Tricks course.
For any other questions, we're here to help. Send us an email.