Welcome to Blues Week!
Over the next week, you'll be learning how to strum and solo the blues, even if you're a beginner.
In the first video of this 4-part blues series, discover the 15-Minute Play-to-Learn Method and the secret to sounding bluesy on the ukulele.
Don't miss the next video where you start your soloing journey over this exact 12-bar blues progression you learn today.
Students on the early-bird waitlist for the upcoming Blues Tricks course will be the first to know when this video is live.
Grab the 12-Bar Blues Bonus Worksheet & Walk-Down Tab
As mentioned in the video, I've prepared a special bonus worksheet for those of you who want to dive deeper with the 12-bar blues and learn the walk-down lick.
To get the worksheet and to be the first to know when my upcoming course Blues Tricks is open for enrollment, enter your information below.
Yes! I want the Bonus Worksheet and want to get on the early-bird waitlist for the upcoming blues course.
100% privacy. No spam.
How to Get Early Access to Blues Tricks and Guarantee Your Spot
Unfortunately I can only work with a handful of students at a time. Unlike some of my other courses, I limit Blues Tricks registration to provide the best support and experience for my students.
When enrollment for the course opens again, sign up as soon as you see it, because registration is only open for a limited time (this will be the only time Blues Tricks opens this year).
Here's how to make sure you get in:
Open your email inbox on Monday, August 29, 2022 at 1:00 PM eastern timezone
Refresh your inbox until you get an email from me
Open the email and click on the private early-bird registration link inside the email to join the class
Secure your spot in the class immediately
Show up on time on Monday and follow the instructions above to make sure you get a spot this year!
Registration for Blues Tricks is opening soon. Please enter your information below to be added to the early-bird waitlist and you'll be the first to know when we open enrollment.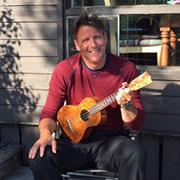 "Brett is a wonderful teacher who is very relaxed when he teaches and plays, which makes me relaxed when I play. He explains his lessons very well and the progression of his lesson plan makes total sense."
– Gillett C., Student