One of the most beautiful and exciting ways to play the ukulele is by fingerpicking.
Thanks to artists like Jake Shimabukuro, James Hill, Ukulele Orchestra of Great Britain, and many more, we're seeing the ukulele played in new, original ways.
We're seeing that the ukulele isn't just an instrument for strumming and singing. Instead, you can find your "voice" and express yourself on the ukulele without singing.
How do these artists combine melody, harmony, and rhythm through fingerpicking the ukulele?
In this course, I'll be showing you how to fingerpick 24 individual songs in four distinct styles in as early as twelve weeks.
You'll learn things like:
How to fingerpick the ukulele in a relaxed, smooth manner with correct technique
How to fingerpick the ukulele in four distinct styles including chord melody
How to play twenty-four fingerpicking songs and pieces–everything from the classics, blues, and modern songs to Beethoven, Bach, Aguado, Tárrega, and more
How to play expressively and find your "voice" without singing
And much more...
Registration for Fingerpicking Tricks is opening soon. Please enter your information below to be added to the early-bird waitlist and you'll be the first to know when we open enrollment.

100% privacy. No spam.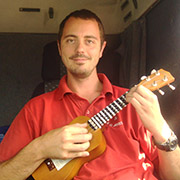 "Fingerpicking Tricks has given me a lot of pleasure in learning ukulele without any of the stress and confusion that comes with learning solo. It's because Brett gives quick answers to any questions and has laid out the course perfect for beginners like me. Before I discovered Ukulele Tricks I tried learning solo and ended up putting my ukulele down before getting anywhere. Now I have goals set and finishing a lesson gives me a great sense of achievement. It's very rewarding and I'm very happy with my progress. I actually bought Fingerpicking Tricks as my first course because that's the style I love. I highly recommend the course."
– Jai C., Fingerpicking Tricks student