"The Blues? It's the mother of American music. That's what it is – the source." – B.B. King
Every musician needs to know the 12-bar blues. Anyone can enjoy the 12-bar blues. Thousands of songs have been written around the 12-bar blues. Modern music as we know it today came from the blues.
The blues is for anyone who wants to break out of stiff, robotic ukulele playing and discover musicality.
Maybe you want to create your own intros and endings to song. Maybe you want to learn how to solo and improvise. Maybe you aren't the best singer but still want to express yourself. Maybe you want to write songs. Maybe you like the sound of the blues. Maybe you just want to be inspired and learn a new style of music!
In this course, you'll learn all the above – I'll be teaching you how to strum, solo, and play well-loved blues songs in as early as twelve weeks.
You'll learn things like:
The secret to making your playing sound "bluesy"
How to strum the blues in several variations and styles
How to play the blues scale in all positions and all keys across the fretboard
The techniques required to play expressive solos
How to play stylistic licks, intros, turnarounds, and endings
How to improvise your own blues solos
How to play well-loved blues songs
And much more...
Registration for Blues Tricks is opening soon. Please enter your information below to be added to the early-bird waitlist and you'll be the first to know when we open enrollment.

100% privacy. No spam.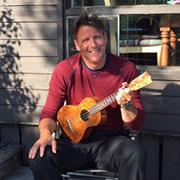 "Brett is a wonderful teacher who is very relaxed when he teaches and plays, which makes me relaxed when I play. He explains his lessons very well and the progression of his lesson plan makes total sense."
– Gillett C., Student